Posts Tagged: Wedding Bouquet
11/15/12
Ranunculus. Dianthus. Phalaenopsis. Hyacinth…huh?
Flowers may have tough names to pronounce, but their ability to add beauty and life to a wedding is something that everyone understands. Today's In the Limelight feature is on faBLOOMosity – a new Edmonton flower shop located in downtown's revitalized Mercer Building. The shop may be new, but the talent behind it has years of experience.
Meet Janine Sebastian. From designing boutonnieres that look more like art than the eyesore your prom date wore, to centrepieces that defy gravity, Janine and her faBLOOMosity team are leaders in the Edmonton floral market and they push boundaries left, right and centre. My favourite thing about working with Janine is her passion and energy – no one will get you more excited about your wedding flowers! Read on to learn what sets faBLOOMosity apart.

Tell us about faBLOOMosity:
At faBLOOMosity we specialize in custom floral designs for everyday arrangements, weddings, and special/corporate events. Each client is unique, as is each design created specifically for them. What we do is an art form in which we turn the ordinary into extraordinary, changing the way people view florists and floral design as a whole.
What is your personal experience in the floral industry?
I've worked in floral design for the past 10+ years which has allowed me the opportunity to adapt and build my own style and presence within the industry. Gearing myself towards the unexpected and more modern approach has set me apart within Edmonton as a unique and 'out of the box' designer. A fan of anything that is "not popular", I strive to establish new trends and push my clients, and ultimately, myself to take risks and be adventurous.
What makes faBLOOMosity different? How do you provide a distinct wedding experience?
First and foremost, we are non-believers in packaged wedding florals. What sets us apart is our ability to build off of our clients' unique personalities, individual style, likes and dislikes, and anything else they're passionate about to ensure that we truly capture the essence of what it is they are looking for and expecting from us.
Secondly, we are not afraid to voice our opinions or concerns, as well as love or hates, to our brides and grooms. Honesty is the best policy, and we expect pure honesty out of them and in turn provide that same feedback to the clients.
Lastly, our amazing team of FAB Florists make for an inviting atmosphere in the shop, and provide our clients with perfection each time. With the team we have in place, nothing is impossible and everything is achievable.
What are some of the upcoming floral trends that you're excited about?
One design that I have been working on implementing into the Edmonton market for over a year now is ombré. I was thrilled when a few past clients allowed me to design their wedding with this, and I hope to continue it forward on a larger scale!
As well, I am a huge advocate for large, structural focal pieces. It really does take your dollar far by creating one over the top focus for your guests to awe over.
Another way of creating a 'wow' factor is by having a more elaborate backdrop behind your head table. Out are the days of boring white voile, making room for things like: texture, LED lighting, en masse florals, etc. Be creative and make a bold statement.
 am also extremely excited about the introduction of the color mint into wedding designs! It offers a fresh, new vibe and carries a youthful feeling.
Finally, I am happy to be introducing more elaborate and detailed bouquet handles into the wedding season. Mirrored bands, romantic textures, dramatic graphic prints, and natural elements such as birch are just a few examples of things to watch for from me!
What do you like most about working with brides and grooms?
The sheer excitement and love that fills the room when working with the couples is the most enjoyable part for me. It is SO much easier to build off of that energy. It really drives everything forward and sets the pace for the entire process. Working in that environment truly has the ability to keep me smiling and enjoying my career day in and day out. Who wouldn't want to be a part of the most important day of someone's life?
What are your top tips for brides and grooms when considering their wedding flowers?
Don't be afraid to try something different, and do not allow yourself to get caught up in the opinions of others around you. It is your day – have what YOU want. All too often I see brides give in to what their mother, or sister, or friend, or whoever wants them to have. Everyone has an opinion but remember that it is your opinion that matters the most and it is your voice that I listen to when designing for you. Stick strong to your gut feelings and your vision, and I promise that it will be exactly what you have always dreamed it to be.
 +  +  +  +  +  +  +  +  +  +  +
Here's a look at faBLOOMosity's stunning work for some of our recent weddings: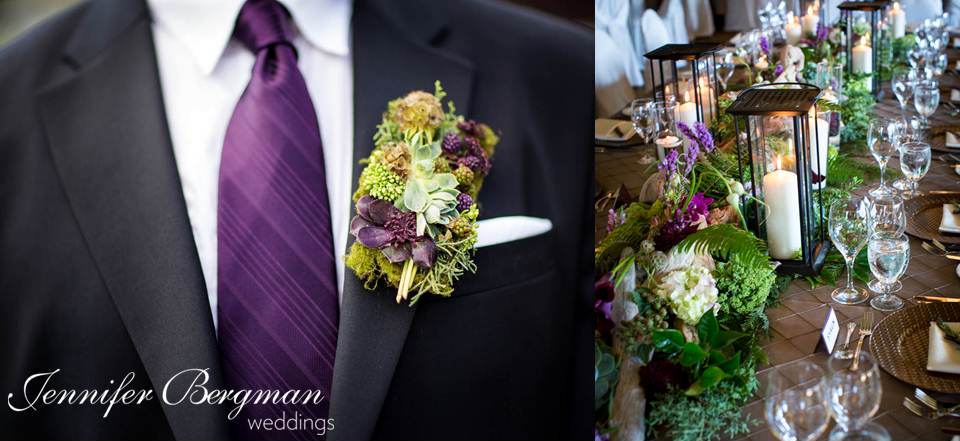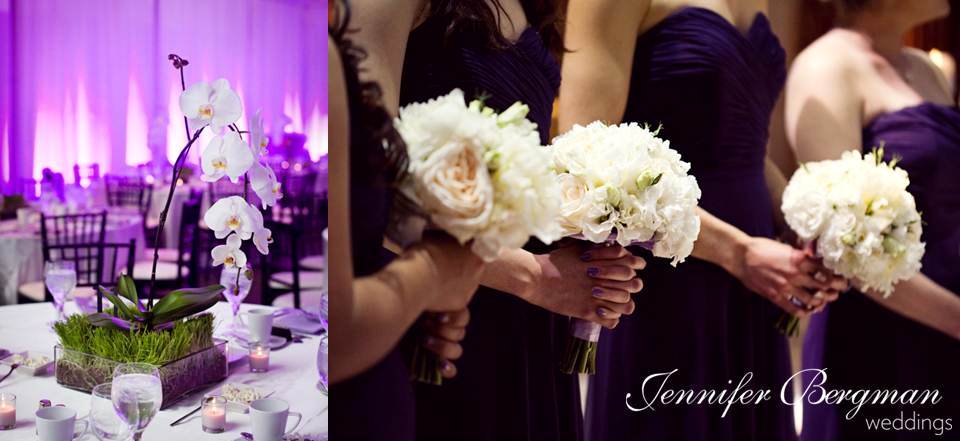 Jennifer
Edmonton Wedding Planner + Designer

Photo Credits: (top) Eternal Reflections, (middle) Kelly Redinger Photographer, (bottom) Katch Studios.
02/3/11
2011 is upon us and as many of you are knee-deep into wedding details I'd like to share what we're seeing for wedding trends this year.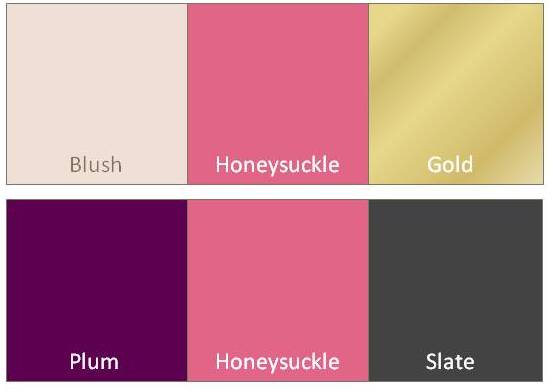 Honeysuckle is Pantone's colour of the year and it's a versatile shade that works with many wedding styles. Pair it with blush and gold to create a romantic, whimsical look or combine with plum and slate for a bold, modern statement.
You don't have to be a master-crafter to add thoughtful do-it-yourself (DIY) items to your wedding. The paper napkin ring pictured below serves double duty as a placecard and adds a stylish, personal touch to table décor. Another fun project – gather your bridal party to help assemble welcome baskets for out-of-town guests.
Ruffles and romance are all over the runway! Brides are straying from the classic white strapless gown and opting for 'wow' factor details.
One-of-a-kind jewelry is a wonderful way to express your personal style on your wedding day. The earrings pictured below are hand-crafted by local Edmonton designer Cara Cotter (So Pretty Jewelry). Her designs are available online and at Coup Garment Boutique.
From classic shades to metallics and bold colours, glam heels never go out of style!
You'll be holding your bouquet for most of your big day – make sure it's nothing less than spectacular! A large, lush bouquet with carefully considered adornments is the perfect accessory to complete your bridal look.
A signature Jennifer Lopez look, Hilary Duff ignited the high bun bridal hair trend with her vows to NHL star Mike Comrie last summer.
Unique stationary is a great way to set your wedding apart. Chunky table numbers and creative save-the-dates are all the rage (check out the gorgeous coasters pictured below!). We're also seeing a return to classic calligraphy and letterpress invitations.
What wedding trends, if any, are you including in your wedding plans?
Jennifer
Photo Credits (Clockwise L-R): DIY Paper Napkin Ring Placecard – Thoughtfully Simple; Handcrafted Pink Grapefruit Quartz Earrings – So Pretty; Gold Manolo Blahnik Shoes – Next Exit Photography; Hilary Duff High Bun – People; Save the Date Letterpress Coasters – Oh So Beautiful Paper; Bouquet – Luster Studios; Vera Wang Farrah Gown – Vera Wang.