Posts Tagged: Cara Cotter
12/16/13
The winner of our 4th giveaway is…
Shylah W.
Shylah wins an amazing prize package ($278 value!) from So Pretty Jewelry by Cara Cotter, including a Luxe Mini Jewelry Handbag and her choice of a gold, silver or rose gold FRAGMENTS necklace from So Pretty's newest collection.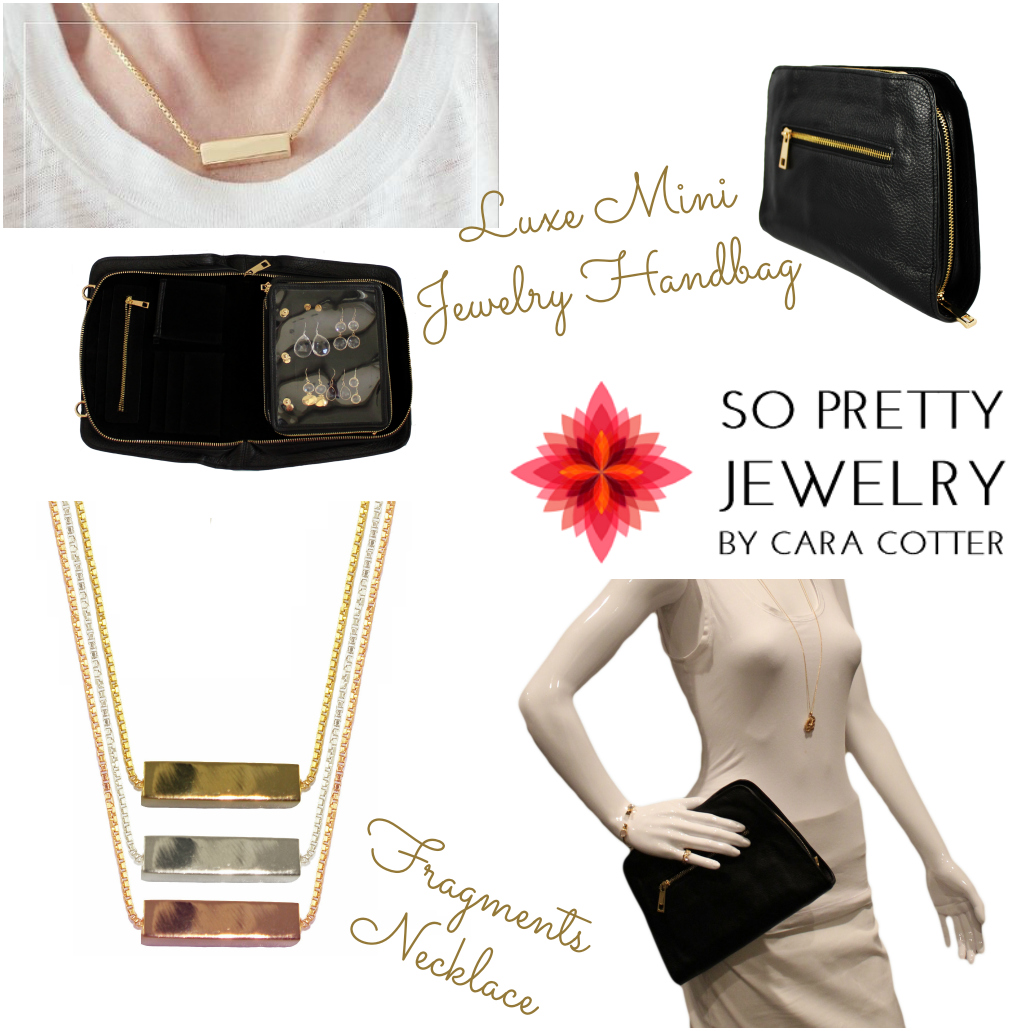 Our 5th and final giveaway announcement is coming very soon…!
Cheers!
Jennifer + Team | Jennifer Bergman Weddings
Edmonton Wedding Planning + Design
12/11/13
In celebration of our 5th Birthday, Jennifer Bergman Weddings is partnering with local businesses to give away 5 prize packages until the end of 2013!
+  +  +  +  +  +  +  +  +  +  +
GIVEAWAY #4: So Pretty Jewelry by Cara Cotter Prize Package ($278 value!)
December 11-15, 2013
Edmonton based So Pretty Jewelry offers one-of-a-kind, handmade and private label jewelry. Cara Cotter's contemporary design aesthetic layers clean, modern and organic elements together to create stunning and versatile pieces.
"I want my jewelry to be worn every day, be naturally beautiful and effortless while attention to detail and the quality of each piece is paramount – when you wear So Pretty Jewelry I hope you feel wonderful about yourself and help everyone around you feel the same!"  — Cara Cotter
Prize Package:
A Luxe Mini Jewelry Handbag ($178 value): the ultimate jewelry storage and travel case
which converts to a wearable clutch style handbag and cross body bag;
PLUS
Your choice of a gold, silver or rose gold FRAGMENTS necklace from
So Pretty's newest collection (up to $100 value)!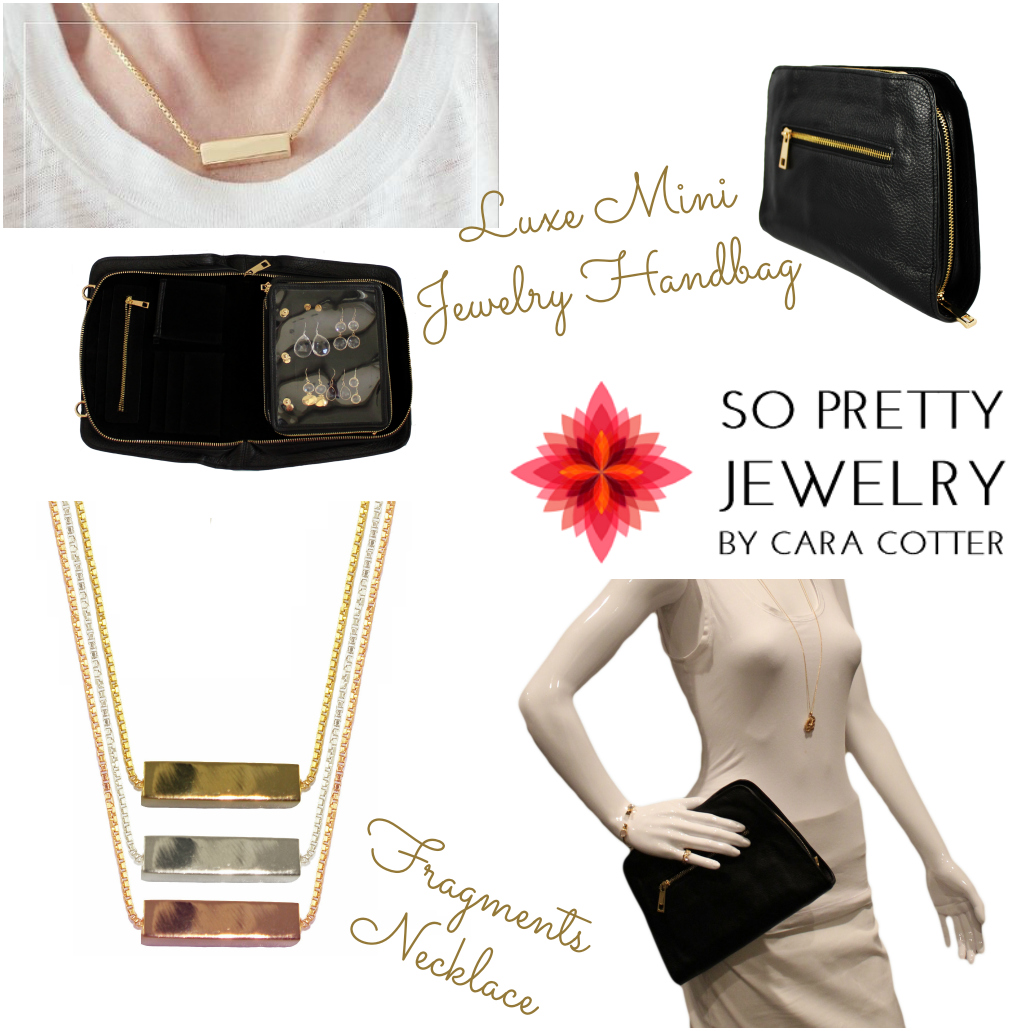 To Enter:
1. 'LIKE' the Jennifer Bergman Weddings Facebook page.
2. Comment on the giveaway post telling us which FRAGMENTS necklace you'd choose if you win – gold, silver or rose gold!
***Bonus entry: SHARE the post on your personal Facebook page!***
.
Giveaway ends December 15, 2013 at 11:59 PM MST. The winner will be randomly drawn on
December 16, 2013 and announced on the JBW Facebook Page and Blog. 
+  +  +  +  +  +  +  +  +  +  +
Good luck!
Jennifer + Team | Jennifer Bergman Weddings
Edmonton Wedding Planning + Design
02/3/11
2011 is upon us and as many of you are knee-deep into wedding details I'd like to share what we're seeing for wedding trends this year.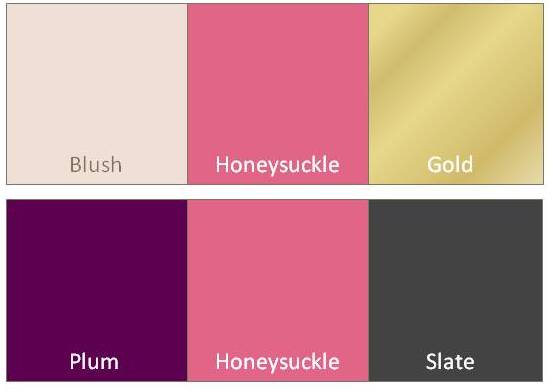 Honeysuckle is Pantone's colour of the year and it's a versatile shade that works with many wedding styles. Pair it with blush and gold to create a romantic, whimsical look or combine with plum and slate for a bold, modern statement.
You don't have to be a master-crafter to add thoughtful do-it-yourself (DIY) items to your wedding. The paper napkin ring pictured below serves double duty as a placecard and adds a stylish, personal touch to table décor. Another fun project – gather your bridal party to help assemble welcome baskets for out-of-town guests.
Ruffles and romance are all over the runway! Brides are straying from the classic white strapless gown and opting for 'wow' factor details.
One-of-a-kind jewelry is a wonderful way to express your personal style on your wedding day. The earrings pictured below are hand-crafted by local Edmonton designer Cara Cotter (So Pretty Jewelry). Her designs are available online and at Coup Garment Boutique.
From classic shades to metallics and bold colours, glam heels never go out of style!
You'll be holding your bouquet for most of your big day – make sure it's nothing less than spectacular! A large, lush bouquet with carefully considered adornments is the perfect accessory to complete your bridal look.
A signature Jennifer Lopez look, Hilary Duff ignited the high bun bridal hair trend with her vows to NHL star Mike Comrie last summer.
Unique stationary is a great way to set your wedding apart. Chunky table numbers and creative save-the-dates are all the rage (check out the gorgeous coasters pictured below!). We're also seeing a return to classic calligraphy and letterpress invitations.
What wedding trends, if any, are you including in your wedding plans?
Jennifer
Photo Credits (Clockwise L-R): DIY Paper Napkin Ring Placecard – Thoughtfully Simple; Handcrafted Pink Grapefruit Quartz Earrings – So Pretty; Gold Manolo Blahnik Shoes – Next Exit Photography; Hilary Duff High Bun – People; Save the Date Letterpress Coasters – Oh So Beautiful Paper; Bouquet – Luster Studios; Vera Wang Farrah Gown – Vera Wang.