Posts Tagged: Wedding photography
06/5/11
Crystal + Ian had a beautiful spring wedding in early May. At their reception, guests had a blast with Laugh Photobooth – an Edmonton photobooth rental company. I asked owners Kathy and Steven to share some more information about booking Laugh Photobooth for your own wedding reception.
1. Quick – give us your best Tweetography!
Laugh Photobooth is sure to add some excitement to your Edmonton wedding. Guests will break the ice, socialize and leave with a printed photo strip to remember the evening forever!
2. Why is a photobooth a great addition to a wedding reception?
Not only is Laugh Photobooth tons of fun at your wedding reception, but it also provides you with a very memorable and unique guestbook. Every time guests use the photobooth it prints a duplicate copy of the photos – one for the guest to keep and one for the couple. Photos of your guests are placed in a book with their personalized messages to you! The book is put together and bound on the spot by an avid scrapbooker.
3. What are some of the extras that Laugh Photobooth provides?
We are always adding new items to the "Tickle Trunk" – a collection of fun props that guests love to use in their photos. As well, Laugh Photobooth is moving towards shorter bookings for those events that do not require the booth for four hours.
4. How far in advance should couples book Laugh Photobooth?
Couples interested in having Laugh Photobooth for their special day should book at least a year in advance to avoid disappointment.
5. What's the most memorable photobooth experience you have had at a wedding?
We had a wedding with groomsmen who were oversized hockey players…they had the booth rocking trying to "raise their cups" for the camera!
6. What's next for Laugh Photobooth?
Laugh Photobooth is embracing technology and will soon be moving to on-the-spot social media pictures!
For more information visit their website and 'like' their Facebook page. Thanks Kathy and Steven!
Jennifer
Edmonton Wedding Planner
06/28/10
I had the pleasure of working with Infused Studios on a 3-day convention earlier this year. The creative eyes behind the cameras belong to Anthony + Rina, who not only capture spectacular photos, but they seek to tell your love story through imagery. When I sat down to chat with Anthony + Rina, what really stood out to me is how much they strive to personalize the wedding photography experience for each and every couple they work with. I hope you enjoy getting to know them!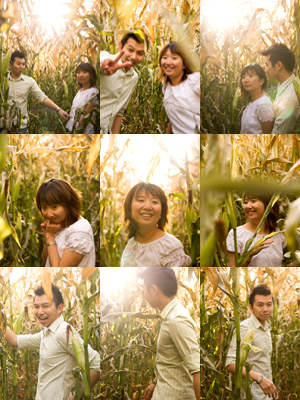 Quick – give us your best Tweetography (ie. tell us about yourself in 140 characters or less)!
Visual Poets :: Love stories are our inspiration & it is an honour to tell them. Big kids at heart, we love to have fun, eat food & travel.
Why did you become photographers?
Rina :: After getting my Bachelor of Design I worked primarily as a graphic designer. I also did some art directing and fashion/ commercial photography. There was a disconnect between myself and the models and after I shot my first wedding I realized why. Capturing a pretty face is one thing; capturing true love and the connection between people is entirely different. It's more challenging and also more rewarding.
Anthony :: I never owned a camera as a kid. I was raised in a traditional Chinese household, so my career path had 4 options; doctor, lawyer, accountant or engineer. I chose to be a mechanical engineer and became a successful project manager at a reputable oil and gas company within 3 years of graduation. Deep down something was missing – I knew there was always this yearning to express myself artistically though I never had the chance…until Rina came into my life.
She introduced me to her collection of camera equipment and I was instantly hooked. It was like an addiction, every day I would be excited to get through my day at the office because then I could get my photography fix at night. I was intrigued with the idea that I could express myself and create art without limitations, equations, or constrained by the laws of physics. On one chilly October afternoon, I gazed out my office window and asked where I saw myself 20 years down the road…I knew intuitively that I couldn't see myself like my boss across the hall. The next day, I handed in my resignation letter and never looked back.
Who have been the biggest influences in your life (photographers or otherwise)?
Rina:: I look for paintings and drawings for my inspiration. Monet for his Impression of landscape paintings. Picasso, Degas, da Vinci and Michelangelo for pushing body movement. Dali for creating the surreal and unnatural forms of life. Also music videos and movies.
Anthony :: One of my biggest influences are movies…and especially 'chick flicks' because they have the best cinematography and lighting. C'mon, I mean who can forget epic scenes like the boat scene from "The Notebook," or even the forest scene from "Twilight?!"
What are some wedding day photography tips that couples should keep in mind?
Before booking a photographer, make sure you see an entire wedding that they've shot. Teaser images from blogs & website don't convey how well a photographer can capture a wedding.
Plan to schedule at least 2 hours to spend time with the photographers (ideally, we'd love to have 4+ hours)! And if there are people that you want to have photos taken with, let us know beforehand so we can be on top of it for you.
Select based on who you want as a guest at your wedding. Yes, we're there to work, but really, do you want to hire someone you don't like to attend your wedding?
When considering your photography budget, instead of choosing a price point choose the style 'musts' that you want. Then look at who photographs in that style and work out a price range from there. It's heartbreaking when couples choose based on price and aren't satisfied with their images — after all, you can't redo your wedding day!
Do you have a favourite wedding or wedding moment that you've photographed?
Every wedding that we have shot so far has been an exciting moment — our clients are beautifully unique. Photographing the epic "pearl harbor" moment at the Cold Lake municipal airport with the plane flying in the background while Kylie and Warren kissed stands out. We had one chance to get the shot and it turned out exactly how we imagined. Anthony got the shot and Rina was so excited she jumped in the air and whacked him on the head with her telephoto lens!
What's in store this year for Infused Studios?
We've shot 3 destination weddings so far and are shooting across Alberta through to the fall.
We're shooting inspired engagement sessions with our couples and continuing our pursuit of artistic expression.
We're also looking out for new studio space but this summer we're immersed in love stories!
What's unique or interesting about you two?
Rina:: My closest friends know that I'm goofy, VERY clumsy and still a kid at heart.
Anthony :: I'm dorky, VERY easy-going yet a deep thinker at the same time.
Together :: We love watching classic Disney cartoons and we have a combined collection of stuffed animal friends around our place.  =)
~~~
Here are some amazing images by Infused Studios. You can see more of their stunning work on their website and blog: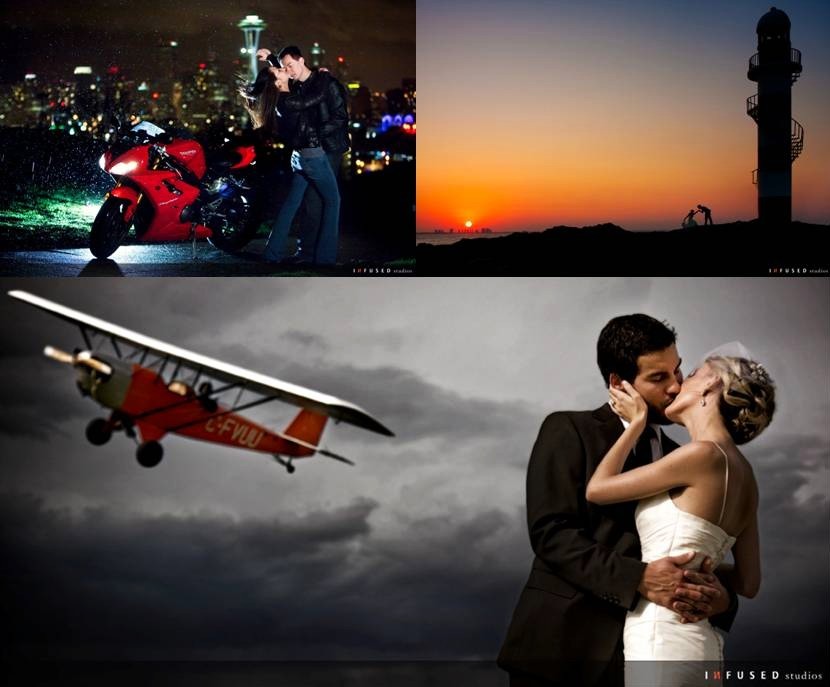 Thanks, Anthony + Rina!
Jennifer
02/7/10
Calgary-based Cineart Photography is giving away a free wedding photography session – either on your day or after. If you browse their blog you'll see that Cineart does fabulous work, so don't miss this opportunity! To enter, simply share your love story and a few words why you deserve to win. The contest ends on Valentine's Day, so quick – enter now!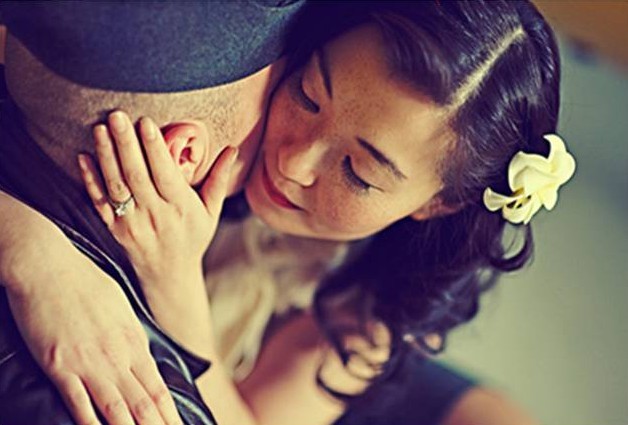 Good luck!
Jennifer
Photo Credit: Cineart Photography.