Posts Tagged: Michael Shandro
10/4/12
Michael and Haley Shandro are an award-winning photography team based in the Edmonton area. I actually met Michael before either of us were in the wedding industry. I was behind a computer in a Management Science lab in Business School and Michael was my T.A.! Years later we're both totally passionate about our unexpected career paths, and Michael has a beautiful wife and family. I have enjoyed getting to know Haley as she has a heart of gold and always has a smile on her face. Together, they bring a relaxed, cheerful vibe to the weddings they shoot and this makes all the difference on your big day!
Read on to learn more about Shandro Photo, and be sure to visit their blog and Facebook page to keep up with this talented duo.
Quick – give us your best Tweetography (tell us about Shandro Photo in 140 characters or less)!
We love every aspect of photographing weddings. We love playing with light and nature, and looking for creative and interesting ways to let our couples shine.
Why did you become photographers?
We became photographers because we wanted to run a creative business, and we had the opportunity to shoot a few weddings and loved it! We grew the business into a full time career for both of us, and never looked back. We love working with our couples and their families, and thrive on the diversity of each and every wedding. We've had our business for 6 years and it's been an amazing ride, I can honestly say that we look at the world differently.
Who have been the biggest influences in your life?
We often influence each other, bouncing ideas off of each other, and we also expose ourselves to multiple learning opportunities every year (workshops and seminars). Each time we take away something to improve our business and our photography. Our clients also influence everything that we do. We are constantly thinking about ways to make our client experience extraordinary. And of course our families (especially our 2 kids) keep us grounded.
How would you describe your photography style?
It's a hard question to answer because we don't shoot in one specific style. Our photos are bright and colourful, and we try to keep everything clean and elegant. I suppose our style is 'diversity', and finding the unique beauty and spirit of each couple and wedding.
What's up and coming at Shandro Photo?
There's always something going on!  In November we are holding a fundraiser at our studio for Adoption By Choice, a celebration of newly formed families. In 2013 we're looking forward to working with some amazing couples, but first we'll be taking a few trips – our other passion is travel. In April 2013 we have our first big speaking gig at the Canada Photo Convention where we'll be talking about business to an international crowd of over 150 photographers! We're also expanding our studio to accommodate more portrait clients. Of note for Edmonton Wedding Industry folk – we are hosting a year end wrap party at The Common in October, you can email us for details!
Do you have a favourite part of the wedding day that you love to shoot?
One of Haley's favourite moments is when the bride is coming down the aisle, and turning around to see the groom's reaction. We remember that moment of our own wedding and how special it was for us. One of Michael's favourites is the father-daughter dance, because it makes him emotional thinking about our children growing up. When it comes down to it, weddings are all about families, and we have such a close connection with our own, that it's truly amazing to share in the joy of a wedding day.
What are some wedding day photography tips that couples should keep in mind?
Relax! Enjoy! If couples ever ask us for tips about booking photographers, we always recommend that they find a photographer that they really connect with, someone that they trust and will have a good time with. We want our couples to have a great time on their wedding day and not feel stressed out! Hiring a great planner can help with that of course, knowing that all of the details are taken care of will put you at ease. The more relaxed you are, the better your photos will be. Of utmost importance also is hiring a professional photographer who will have backup gear, and also safeguards their wedding photos with multiple (including off-site) backups.
+  +  +  +  +  +  +  +  +  +  +
Here's a look at some of Shandro Photo's gorgeous images – who wouldn't want one of these masterpieces hanging on their wall!?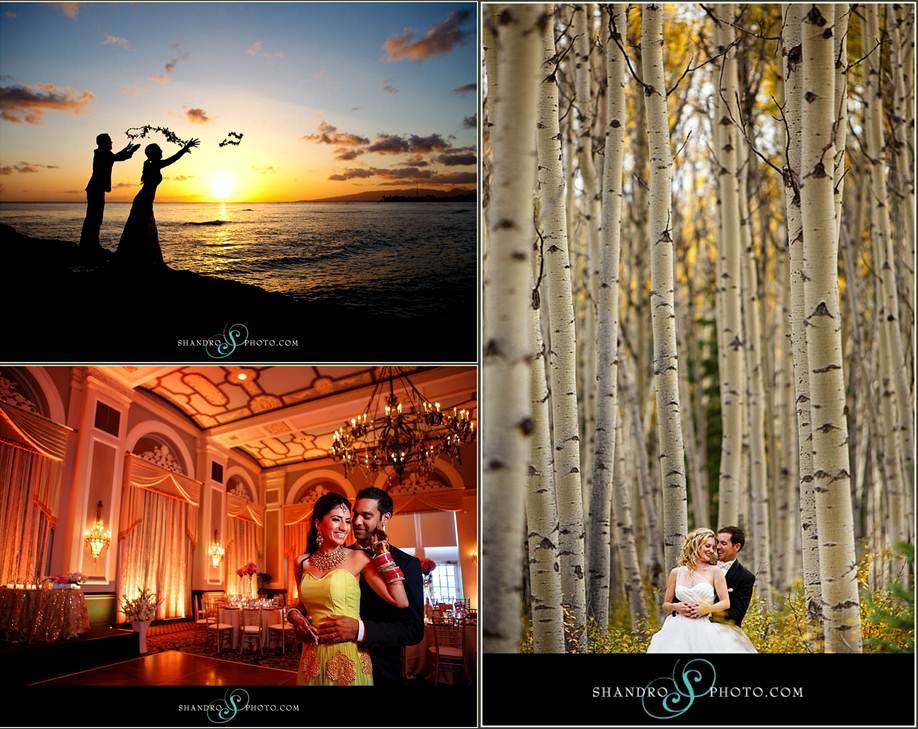 Thanks, Shandros!
Jennifer
Edmonton Wedding Planner + Designer