03/5/12
From photographing an event for Grammy award-winning artist David Foster to the Delux Burger Bar Celebrity Chefs, Moments in Digital photographers Bruce and Sarah Clarke bring their experiences capturing unique events to your wedding day. Their mantra? Take beautiful photos while having a whole lot of fun!
We had the pleasure of working with Moments in Digital Photography on Sherena + Clay's gorgeous wedding last fall. Some images from their day are included at the bottom of this post.
Read on as Bruce and Sarah share their top wedding photography tips and why they love being behind the lens.
 +  +  +  +  +  +  +  +  +  +  +
Quick – give us your Tweetography (tell us about Moments in Digital in 140 characters or less)!
We are a fun-loving husband and wife team who love telling people's stories through our photography. Capturing moments while having fun is what we are all about!
Why did you become photographers?
Photography was something that we both always enjoyed and like most people, our interest in photography began as a hobby. Growing up we were both fortunate to be raised in families who loved to document important moments with a camera. Later in life, it was travel and the desire to to do a better job of documenting our journeys that led us to want to learn more about photography. That eventually evolved into pursuing photography professionally and we realized how much we loved to tell people's stories with our photography so documenting weddings became a natural evolution for us. We love getting to know our couples and we think that helps us create genuine images that really show off their personalities.
One of the other motivating factors that got us into wedding photography was the experience we had with our own wedding photography. Regretfully, we put budget ahead of the skill and artistic vision of the photographer we chose to photograph our own wedding, and the result was images we weren't over the moon with. If we could go back in time, we would definitely spend more time finding the right fit of personality, experience and vision and not worry about spending a bit more to get images we'd be happy with for the rest of our lives.
Who have been the biggest influences in your life (photographers or otherwise)?
Our parents were definitely large influences on us although it wasn't until recently when we started to dig around in their basements looking for vintage cameras to add to our growing collection that we both realized how many cameras our families owned. Even though neither one of us had any professional photographers in our families, photography and photographs were always prevalent in our lives.
In terms of other photographers, we draw a lot of our inspiration from a mixture of old and new photographers including Ansel Adams, Cartier Bresson, Bambi Cantrell, Jesh deRox, Joe McNally, Jerry Ghionis, Kevin Kubota, and many others. We also love movies and get a lot of inspiration for lighting and composition from them.
How would you describe your photography style?
Most people would say our photography style is laid back and fun. We love to laugh and goof around with our couples but we also take what we are doing very seriously. We try to keep our images fun and fresh while at the same time making sure the finished product is clean and timeless. There are many trends in photography and in post production that are here today and gone tomorrow. While we do like to keep up with the trends, we also try not to overdue it with any one trend as we think it will quickly date our clients' images. We don't want them looking back on their images in a few years and thinking that they look old and dated. Trends like selective color or applying a vintage wash to an image might look interesting for awhile but quickly lose their appeal. We love bright, bold, and colorful images along with classic black and white photography.
Do you have a favourite wedding or wedding moment that you've photographed?
It probably sounds cliché but there has been something special about every wedding we have photographed. Most recently, we had the opportunity to travel to India to photograph a destination wedding at a palace in the middle of a lake so that would probably rank up there with one of our more memorable weddings. Another wedding we really enjoyed was Hunter & Rod's intimate wedding at Rutherford House. It was a small family affair that was anything but traditional and included a casual dinner with close family and friends followed by parlour games and everyone sharing stories about the happy couple.
What are some wedding day photography tips that couples should keep in mind?
Relax and have fun. Don't feel you always have to be looking at the camera. Interact with each other and your friends and family and you'll wind up with more natural looking images from your wedding day.
Discuss your schedule with your photographer. Make sure you leave plenty of time for photographs. Often couples underestimate the amount of time they'll need for photos and forget to plan for things like people being late, traffic snarls, and travel time between locations. Great images take time to create and if you and your photographer are pressed for time, you'll both be stressed and it will show in the images
Also, talk to your photographer about what time of day will be best for your wedding photos. Many people think that the middle of the day during a summer wedding would be a great time for photographs because it will be nice and sunny out but that is actually one of the worst time to do your photographs. If it's a hot summer day, you and your wedding party will be uncomfortable and at that time of day the sun is high in the sky resulting in harsh, unflattering shadows.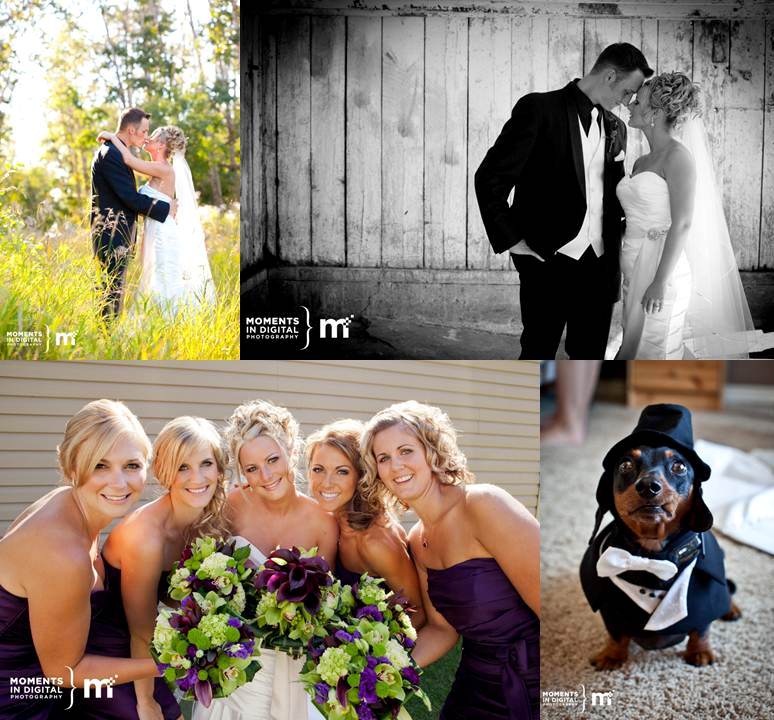 +  +  +  +  +  +  +  +  +  +  +
Thanks for sharing, Bruce and Sarah! Head on over to the Moments in Digital blog to view more of their work and to book this fun-loving couple for your wedding day.
Jennifer
Edmonton Wedding Planner + Designer