01/15/12
Music is such an important part of celebrations. The songs you choose for your big day will become lifelong triggers of the emotions you experienced at your wedding.
We've had the opportunity to work with a talented local musician at several of our clients' weddings and it's been exciting to watch her career take off! Erica Viegas is a singer/songwriter who is available to perform at Edmonton and area weddings. This multi-talented performer released her first EP (Where My Heart Goes) in 2010 and was named one of Avenue Magazine Edmonton's Top 40 Under 40 in 2011. Read on for Erica's tips on choosing your wedding music.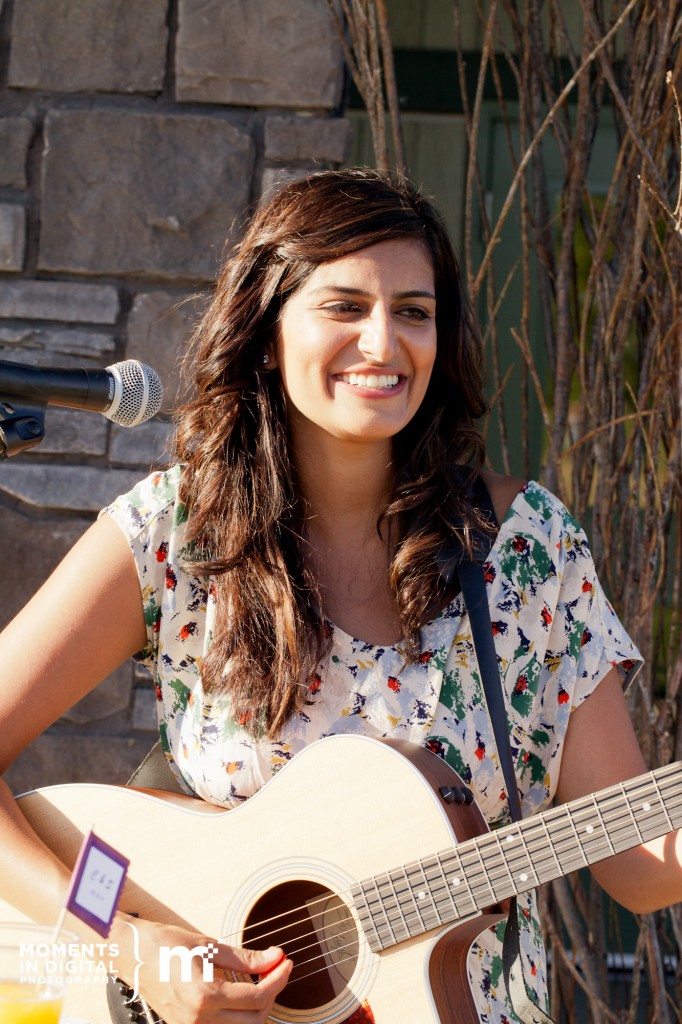 Quick – give us your best Tweetography (ie. tell us about yourself in 140 characters or less)!
I'm a singer/songwriter from Edmonton who loves to play my own music at various shows and I also like to lend my voice to weddings!
What kind of music services do you offer for weddings?
Most often, I am asked to play music for the ceremony (along with about 20 minutes when people are being seated beforehand), though reception music can be arranged, which could include the dance or certain parts in the reception. I can play myself (piano, voice, guitar), but usually like to bring in another instrument too if that suits the wedding – the most popular being cello, or another guitar. I love to make wedding music really beautiful, but also relevant and enjoyable. A lot of people picture ceremony music being boring, or older style hymns, and I want music to add something special and meaningful to a wedding — choosing songs that have words and music that can make a difference to the couple and their guests. Though singing is something I enjoy, I have also done receptions of instrumental music as well. Depending on the couple's vision and budget, I can also play with a full band, although ceremony music usually tends to be quite acoustic and intimate.
Who have been the biggest influences in your life (musicians or otherwise)?
I love folky/pop music and tend to write and record music in that vein — I listen to lots of Canadian music like Sarah Harmer, Kathleen Edwards, Serena Ryder, Sarah Slean….and I'm inspired by people who have managed to have successful and growing careers in the Canadian scene. I'm always inspired by music that tells a story and creates an emotion.
Do you have a repertoire of songs that couples can select from, or will you learn new songs if the bride and groom have something special in mind?
I do have a list of songs that I've played in the past or that are often requested. A lot of people have never really thought about music before coming in, so I like to meet the couple by doing a little "mini-concert" of different choices at my place before the wedding and have them say "yes" or "no" based on what I'm playing. This also helps me to suggest songs that match the style they prefer.
I'm usually more than happy to learn a song that is meaningful to the couple if I'm given enough time. It's also fun to learn new songs I've never heard of because chances are that other couples might like them too. Though my own music is more mainstream, I did train classically and can sing some traditional classical music pieces if that is what the couple is looking for.
What are some of your favourite songs to play when the bride walks down the aisle?
Most couples prefer instrumental songs when walking down the aisle so that all attention stays on the beautiful bride. I love doing an instrumental version of "Hallelujah" by Leonard Cohen on piano with a cellist. The "Forrest Gump Feather Theme" is a gorgeous instrumental and many brides still love "Canon in D," which is also really pretty. A bride once introduced me to "Sea of Love" by Cat Power, and that was a really cool one to sing down the aisle, as well as Fleetwood Mac/Eva Cassidy's "Songbird" or "Feels like Home" by Chantal Kreviazuk, which has gorgeous words. Jason Mraz's "I'm Yours," Edwin McCain's "I'll Be," David Grey's "This Year's Love," or Jack Johnson's "Better Together" have been requested a lot in the last little while, as well as "Ave Maria" for church ceremonies.
Any advice or tips for brides and grooms when considering their wedding music?
Music has the ability to create emotions in a really special way. Picking songs that are meaningful to you as a couple is a great way for your energy and style to shine through in the ceremony. Depending on where you choose to get married, you may have to tailor your music accordingly. Certain churches, for instance, have restrictions on what types of songs you can sing and it definitely helps me if the couple can tell me in advance if the person celebrating their service has restrictions — that way I can work within the confines of the place they are celebrating to still find something that suits them. If you have a "special song" as a couple or songs you remember from other weddings, that always helps. I really enjoy meeting couples and getting to know them enough to help them pick the music, even if they are stumped for ideas when we first sit down.
What's in store this year for Erica Viegas?
My first wedding of 2012 was in the first weekend of the New Year, and I am looking forward to celebrating lots of weddings with great couples. On a personal front, I think I've sung at over 200 weddings, but never actually been a bridesmaid (because I'm always singing instead)….so I'm very excited to be a bridesmaid for the first time this summer! I'm also finishing up recording on a new album I've written, produced by Mike Lent (Jann Arden's former musical director), which has really been a labour of love that I can't wait to share soon, and travel with (at a few festivals) this summer!
+  +  +  +  +  +  +  +  +  +  +
For more information and to hear Erica's music, visit her website.
Jennifer
Edmonton Wedding Planner
Photo Credit: Moments in Digital Photography.