09/26/11
Looking good on your wedding day isn't enough for most brides – you want to drop jaws and knock the socks off your groom's feet as he sees you for the first time, right!? Well, to get jaw-droppingly glam on your big day look no further than Anita Gill Makeup Artistry. Anita is an über-talented makeup artist in Edmonton and I have had the pleasure of working with her on several weddings over the past couple of years. Check out what this makeup maven has to say about makeup tips and trends for your big day.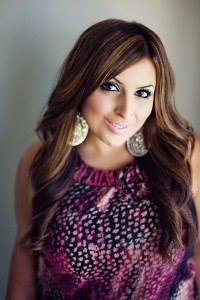 Who's the lady behind the (makeup) brush?

I have been in the makeup industry for almost 6 years now. I started my makeup career off at MAC Cosmetics and worked there for just under 5 years. It wasn't until early last year that I decided to move away from MAC and further pursue being a freelance makeup artist – and I can honestly say that that was one of the best decisions I have ever made. In addition to being a makeup artist, I am also just finishing up my last year in the B.Comm program at Grant MacEwan University. People often ask me why I am a Business and Human Resources student if I want to continue on with makeup. The simple answer is because I one day hope to turn this freelance business into a full makeup and hair studio.
Why did you become a makeup artist?
Originally I was interested in makeup simply because both of my sisters, Sunita Sumaru and Susan Gill, are makeup artists. I think naturally I just wanted to follow in their footsteps, but over the years I've discovered that it was more than that. I soon realized that my job was more than just doing makeup; it included making women look and feel their best. Knowing that I have the ability to make a woman feel super glamorous is the best feeling in the world. The reactions I get from women after doing their makeup is what makes this job so amazing to me.
What's your favourite part about your job?
There are two things that I truly love about being a makeup artist: The first is that I am able to use my creativity to make a woman look and feel beautiful. The second is that I get to meet some of the most amazing people; this includes both people that I do makeup for, along with vendors that I have met within the wedding industry.
What are your top tips for brides when considering their bridal makeup?
First and foremost, it is nice to go into your makeup trial with some inspiration. So even if you just have a picture from a magazine or from a website, bring it with you because it will help communicate what your vision is for your wedding day makeup.
Keep in mind that makeup always looks a lot softer in pictures than it does in person, so do not be afraid to go a little darker/brighter for your bridal makeup. Having that bit of added depth in your eye shadow and a stronger cheek contour can really make all the difference in your pictures.
Make sure you get your eyebrows done before the big day. I can't even begin to describe how much makeup artists appreciate a good, clean brow.
Lastly, say yes to the false lashes! Even if you choose the most natural lashes, they will still make a huge difference. In my opinion, no makeup is complete without liner and lashes!
What bridal makeup trends are you seeing for 2012?
When I first started doing makeup the bridal makeup trend really seemed to be natural, classy, soft neutrals and mauve. However, this trend is completely changing. The up and coming trends are definitely more of a soft smoky eye with nude pink lips and pink cheeks, and the second trend would be a neutral eye lid, with heavy liner and thick lashes, with a more bronzed cheek and neutral lip.
When should brides book their bridal makeup artist?
Be sure to book your makeup artist well in advance. A lot of people assume that makeup artists can be booked a month or two before the wedding date, but this can leave you super disappointed. Try to book at least 6 months in advance – it is surprising how quickly vendors book up these days! Also, book your trial closer to your wedding day (within two months of the wedding day), even if your wedding day is a year away. I say this because when brides get their trial done too far in advance, by the time the wedding comes around, their style has changed and they decide to change the way they want their makeup. In my experience, brides who have a trial too far in advance always end up getting a second trial done closer to the date. Many brides question this by asking, "Well I don't want to wait until a month before the wedding, because what if I hate my trial and choose to go with a different makeup artist?" My answer to this is simple – that is why it is important to look around for a makeup artist, to check out their work, and to ensure that they are reputable in the makeup and wedding industry. If all this is done, then you should not worry and just trust that you are in good hands for your wedding day!
+  +  +  +  +  +  +  +  +  +  +  +
Here are some of the stunning JBW brides and bridesmaids who have been beautified by Anita Gill Makeup Artistry: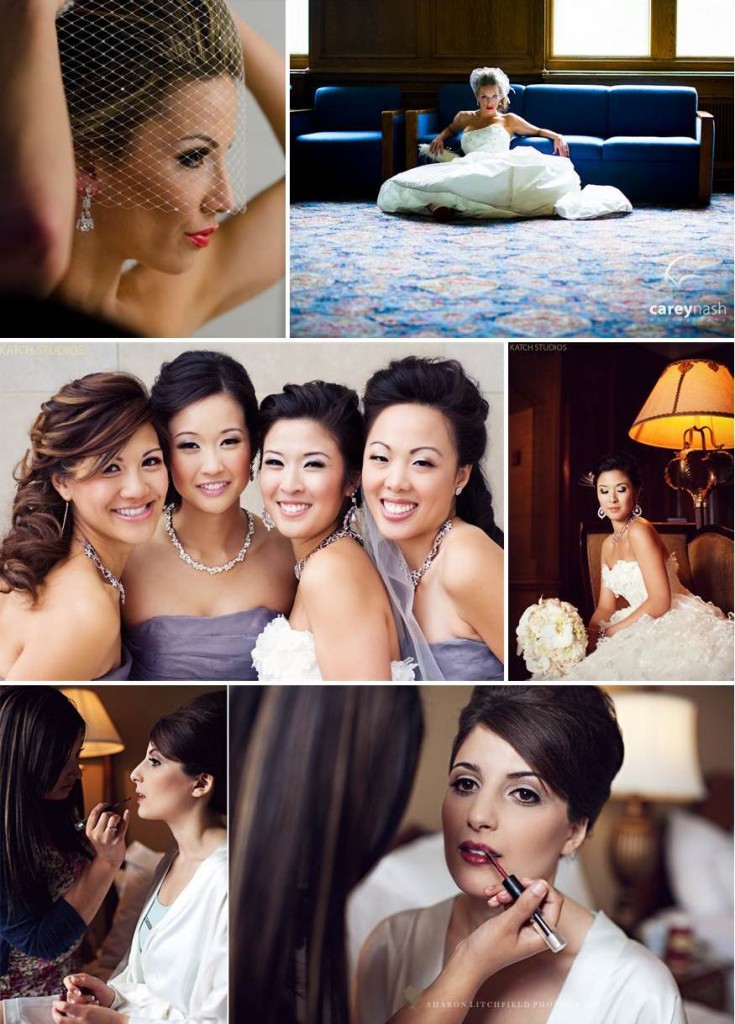 Thanks for the wonderful information, Anita!
Jennifer
Edmonton Wedding Planner
Photo Credits (from top to bottom): Carey Nash Photography, Katch Studios, Sharon Litchfield Photography.