Posts Tagged: Metallic Wedding Cake
12/12/14
Sandy + Steve wanted their winter wedding to be dramatic, romantic, elegant and bold. We let the stunning glass ceilings at The Enjoy Centre serve as inspiration for the design, allowing the deep blue night sky to shine through and enhancing it with additional blue lighting around the perimeter of the space. White and gold textured lighting was used to breakup the blue, mimicking twinkling stars. Metallic elements were carried throughout the design to ensure the sparkle of winter was present, while rich tones of cranberry and red florals brought vibrancy and life to the tables. The inspiration: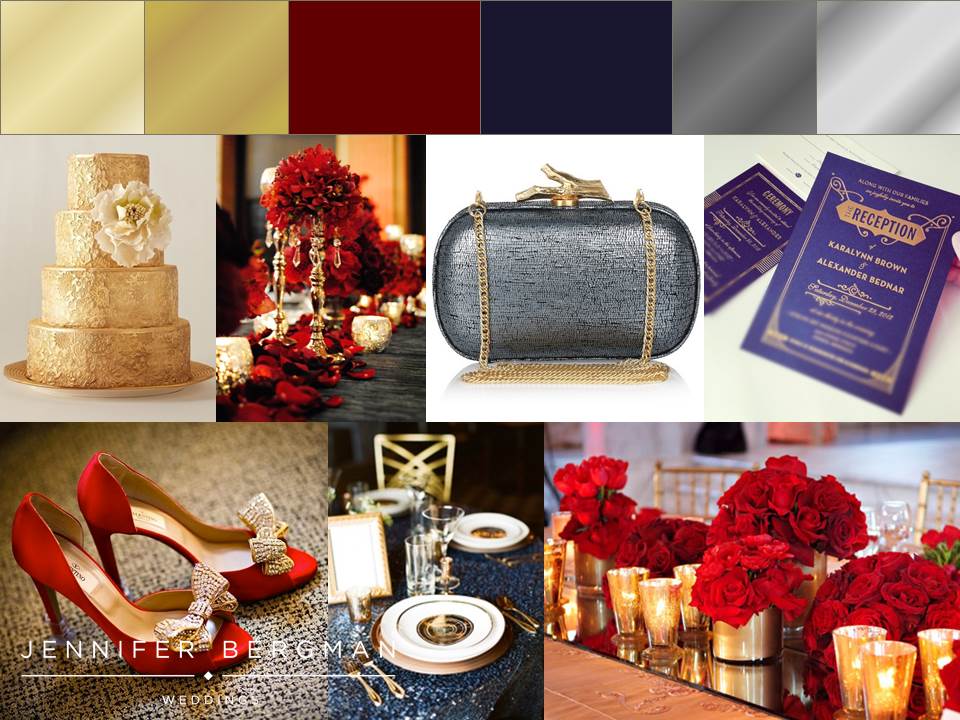 Photo Credits (clockwise from top left): Black and Gold Tablescape – Wedding Obsession; White Peony Centerpiece – Martha Stewart Weddings; Tartan Menu Wrap – The Knot; White and Green Wedding Bouquet – Jennifer Bergman Weddings; Ceremony Canopy – Kehoe Designs; Black Gold and Ivory Wedding Cake – Sweet & Saucy Shop; Black and Gold Table Design – Style Me Pretty.
…and the reality!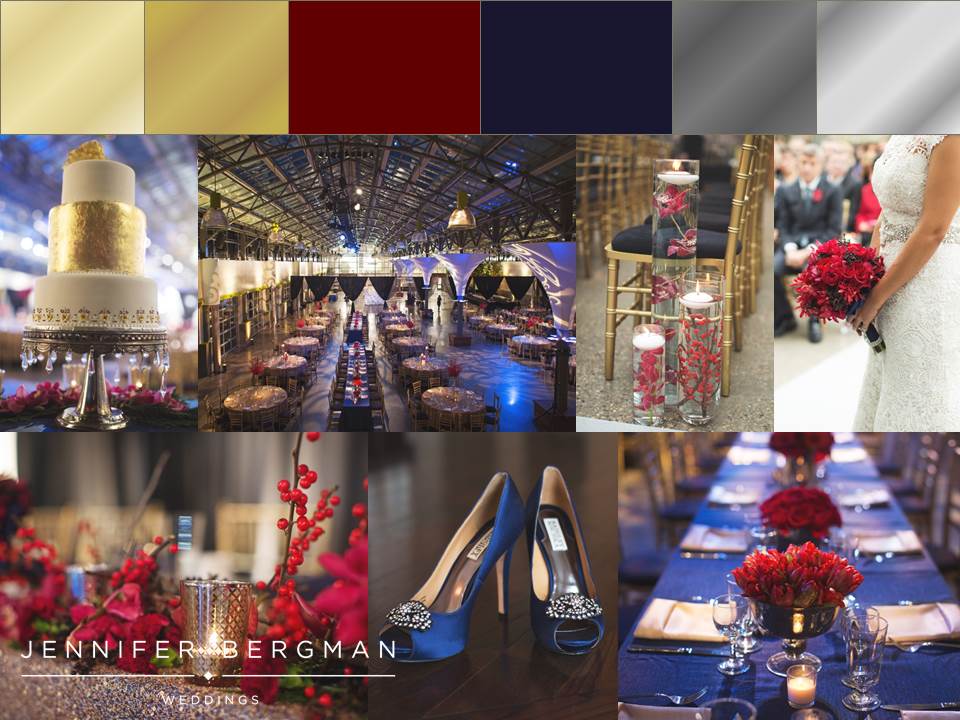 Photo Credit: Jessica Fern Facette.
+  +  +  +  +  +  +  +  +  +  +
We'll be sharing more of Sandy + Steve's gorgeous wedding very soon – stay tuned!
Jennifer + Team | Jennifer Bergman Weddings
Edmonton Wedding Planner + Designer
05/27/13
A trend that has emerged from the Art Deco influence we're seeing this year is the use of metallics and sequins in wedding details and décor. Touches of sparkle and shine add an element of glamour and opulence to your wedding, enhancing the occasion's formality and timelessness.
Pairing metallics with a neutral colour palette is glamorous without being overdone. For a more bold look, add a dash of sparkle to a colourful palette. Mixing metallics? Absolutely – we love this! Don't be afraid to combine various tones such as a brassy gold with rich pewter or rose gold combined with copper.
Here's some shiny wedding inspiration to brighten your Monday!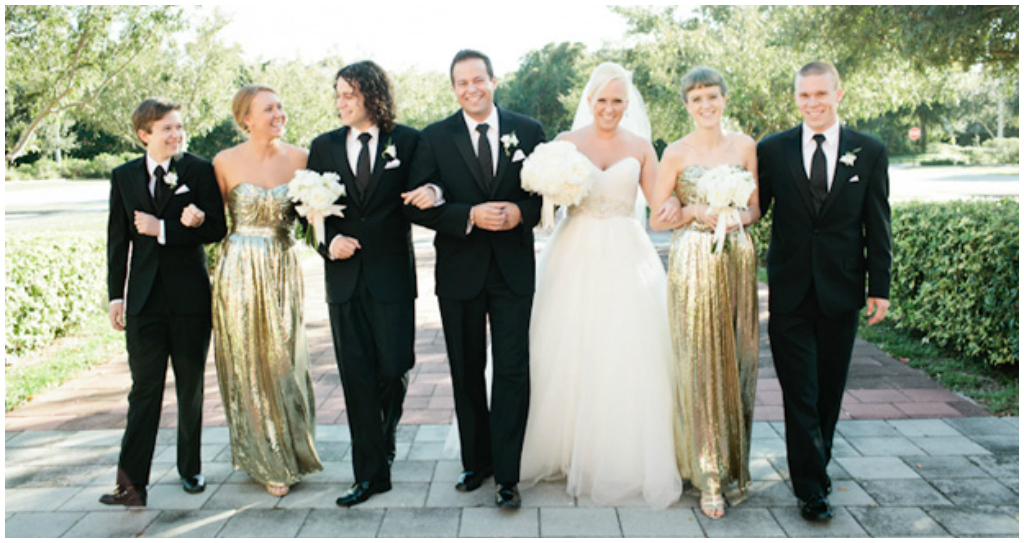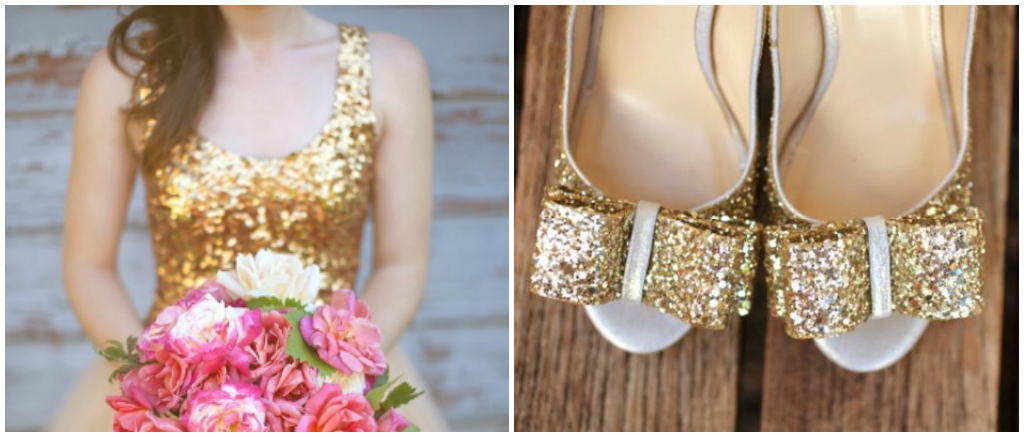 Photo Credits: Metallic Wedding Cake, Gold Wedding Invitations, Gold Wine Glasses, Statement Necklace, Silvery Mercury Glass Candles, Bronze Mercury Glass Candles, Gold Bridesmaid Dresses, Gold Sequin Wedding Dress, Gold Sequin Wedding Shoes, Silver Sequin Tablecloth, Silver Chunky Table Number, Metallic Clutch, Bronze Sequin Wedding Cake, Pink Sequin Bridesmaid Dresses.
 +  +  +  +  +  +  +  +  +  +  +
Suzanne | Jennifer Bergman Weddings
Edmonton Wedding Planning + Design