Posts Tagged: Expert Wedding Planner
02/18/14
Over 75% full – don't miss Plan Your Wedding Edmonton this Sunday, February 23rd, 2014!
+  +  +  +  +  +  +  +  +  +  +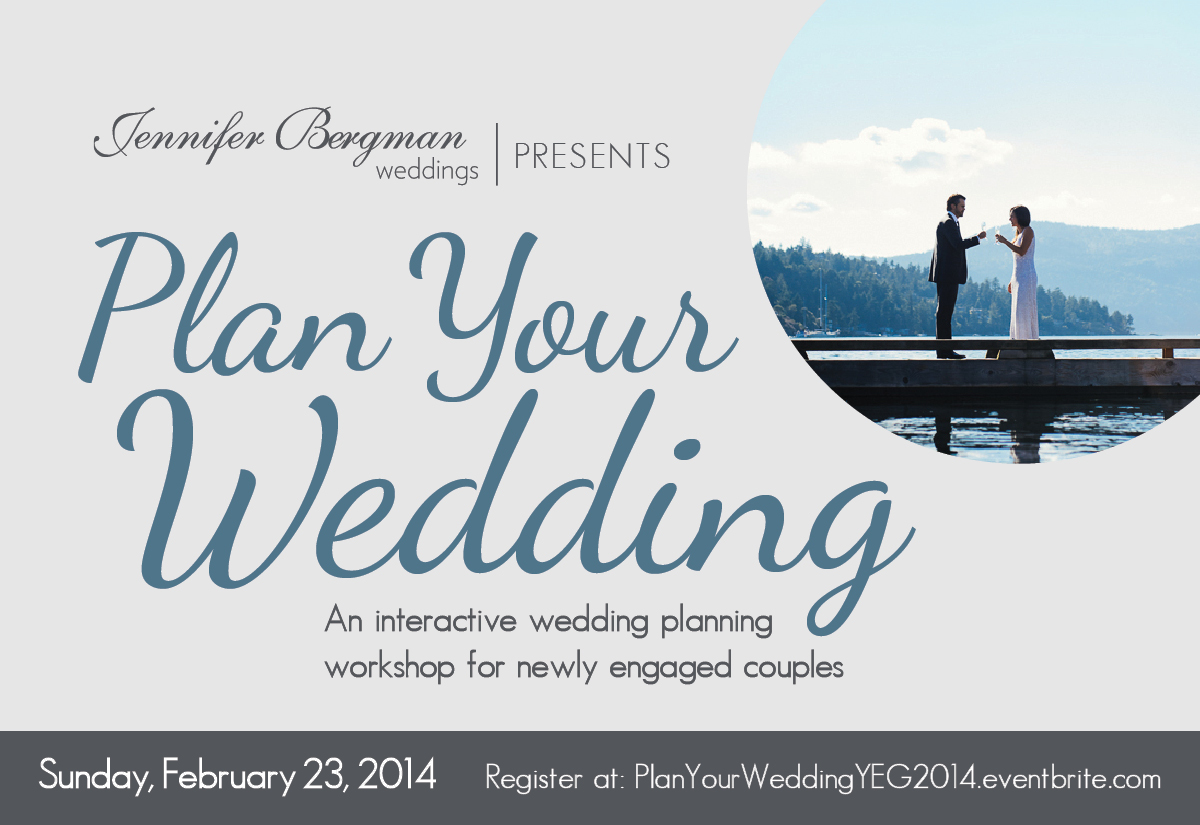 Recently engaged but not sure where to start? Have you been busy planning for a few months and need help figuring out what's left to do before you say, 'I do'? 
Don't miss this fun and informative workshop led by Jennifer Bergman, Lead Planner + Designer of Jennifer Bergman Weddings Inc. Plan Your Wedding Edmonton is perfect for couples who have the time (and desire) to plan their own weddings, but could use a little help along the way.
            Date:          Sunday, February 23rd, 2014
            Time:          10:00 AM – 4:00 PM
            Location:    Matrix Hotel (Amber Ballroom), 10640 100 Avenue
Your ticket includes:
Professional wedding planning guidance through a variety of topics:

Getting started
Navigating the guest list
Setting and sticking to your budget
Choosing wedding locations / venues
Selecting your dream team of wedding professionals
Creative ideas to personalize your wedding
Managing wedding day logistics
Wedding design trends for 2014/2015
Etiquette
…and more!

Planning workbook complete with checklists, budget guides and valuable resources
Décor showcase featuring some of the latest trends in wedding design and décor, including gorgeous linens, customized stationery and centrepieces for every budget
Personal tour of Matrix Hotel's event spaces, guest rooms and suites
Opportunity to have your wedding planning questions answered (and hear other couples' questions too!)
Delicious lunch and refreshments provided by Matrix Hotel
Exclusive offers from Edmonton wedding vendors – valued at over $1,500!
2013 Workshop Testimonials:
"I got a lot out of the workshop – gave me a different outlook on the planning process!"
"Thank you for putting this on – it was a wonderful resource and I will definitely be going over these notes again!"
"This will definitely make my wedding planning less stressful. It helped us make decisions for our venue, décor and style!
+  +  +  +  +  +  +  +  +  +  +
Please note that there are a limited number of tickets available and you must pre-register for this event. Tickets will NOT be available at the door. For more information, please contact us: info@JenniferBergmanWeddings.com / 780.298.8244.
Thank You To Our Event Partners!