Posts Tagged: Edmonton wedding dress
10/9/10
Newly engaged in Edmonton and wondering how to start the wedding planning process? You're in luck! I have partnered with Novelle Bridal Shop to hold a few intimate evening seminars for you beautiful brides-to-be. This is a great chance to have some of your most pressing wedding planning questions answered and to check out Novelle's stunning 2011 bridal gown collection.
The sessions will take place on November 1st, 3rd and 8th beginning at 7:00 PM. There are limited spots available so hurry and contact Novelle Bridal Shop to confirm your attendance at one of the seminars!
Email: info@novellebridal.com
Phone: 780.761.0888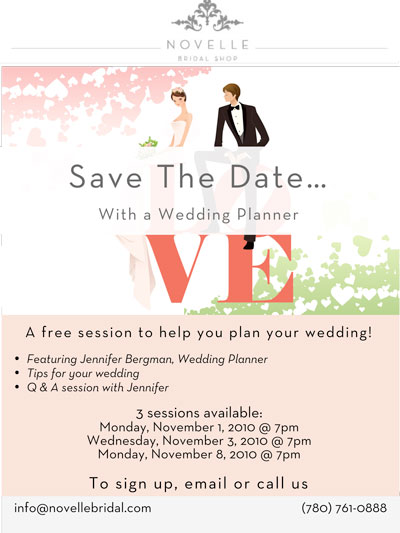 Hope to see you there!
Jennifer
04/6/10
If you're like me and you're a nut for all wedding-related T.V. shows, you've probably seen TLC's newest creation – Four Weddings. The premise of the show is that four brides attend each others' weddings and rate them on a variety of components, including the dress, food, venue and overall experience. At the end of the show, the winner and her husband receive a free honeymoon to a beautiful destination!
Inspired by this concept, I've decided to devote a blog series to letting you vote on the best of four wedding components. At the end of the series, I'll put together an inspiration board with the top picks! So now it's your turn…leave a comment with the number of your favourite dress!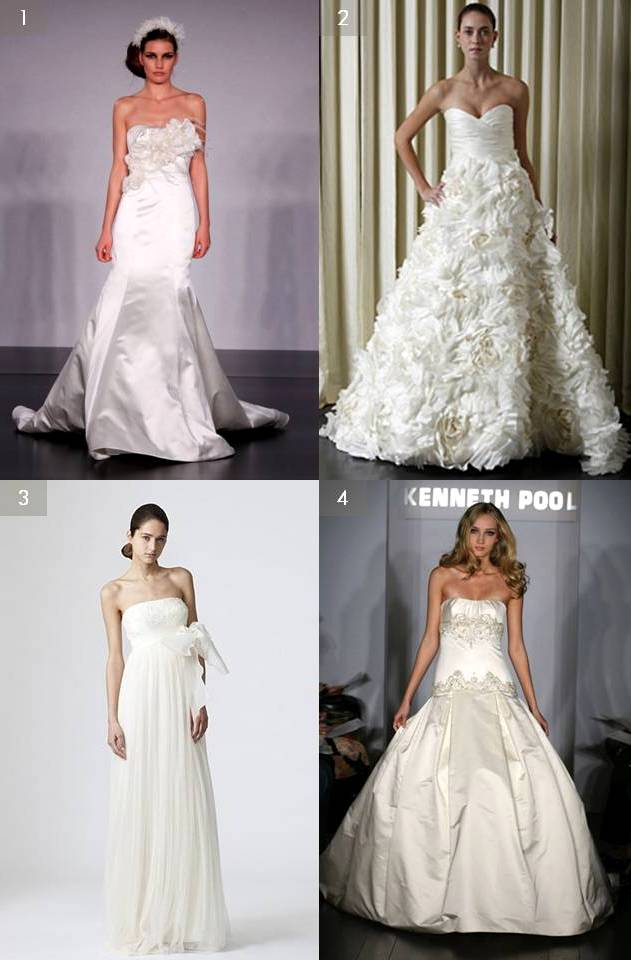 1 – Melissa Sweet DEANNA
2 – Monique Lhuillier – SUNDAY ROSE
3 – Vera Wang – DYLAN
4 – Kenneth Pool – EUROPA
Jennifer
Photo Credits: Melissa Sweet; Monique Lhuillier; Vera Wang; Kenneth Pool.