Posts Tagged: edmonton wedding advice
03/31/14
The latest issue of Bridal Fantasy Magazine features an article we wrote outlining some Edmonton wedding planning tips, titled Top 10 Big Day Blunders. In other words, problems or hiccups experienced by many couples who plan their weddings without professional help. If you are in the midst of planning your wedding, have a read and avoid these common planning pitfalls!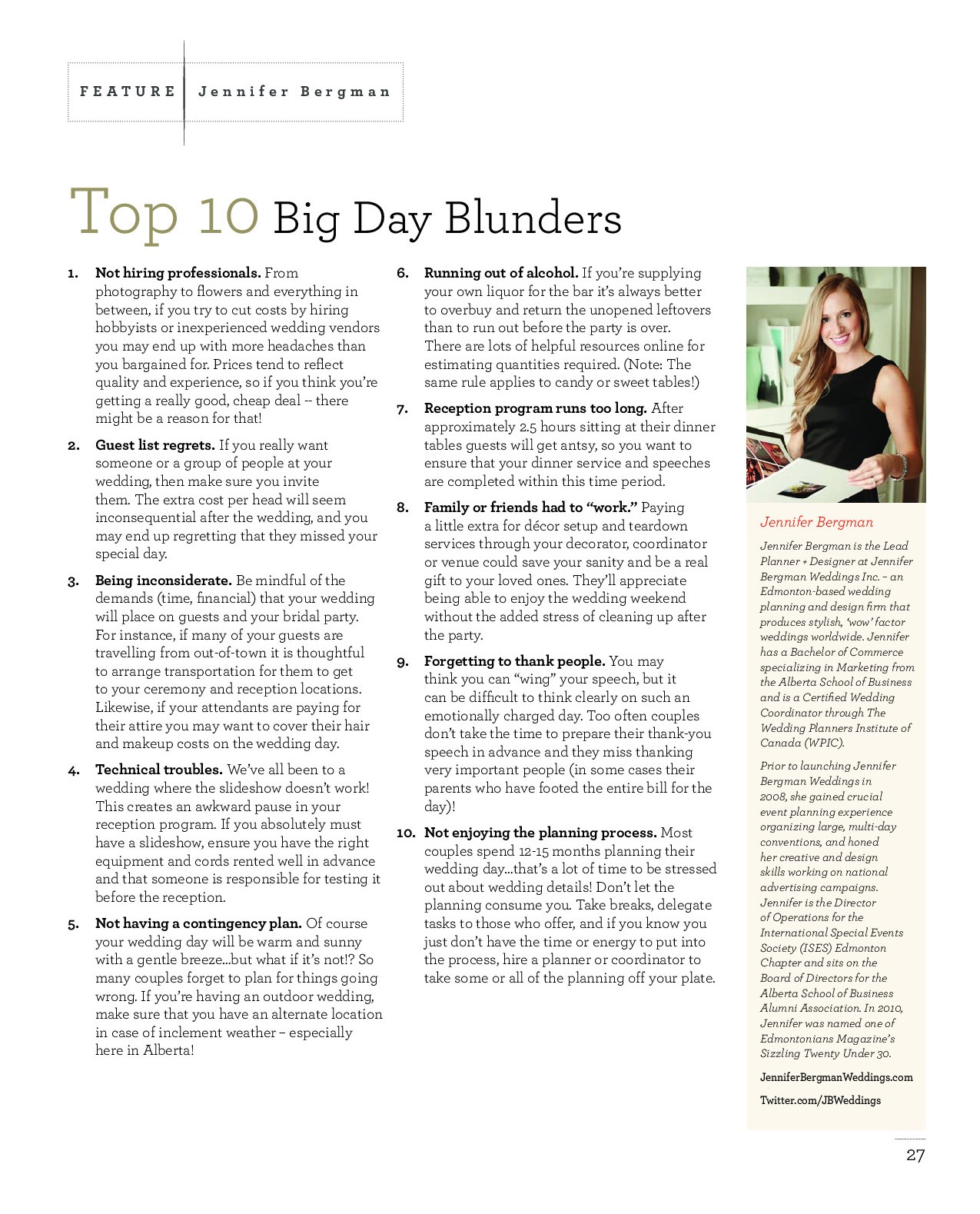 Not hiring professionals. From photography to flowers and everything in between, if you try to cut costs by hiring hobbyists or inexperienced wedding vendors you may end up with more headaches than you bargained for. Prices tend to reflect quality and experience, so if you think you're getting a really good, cheap deal — there might be a reason for that!
Guest list regrets. If you really want someone or a group of people at your wedding, then make sure you invite them. The extra cost per head will seem inconsequential after the wedding, and you may end up regretting that they missed your special day.
Being inconsiderate. Be mindful of the demands (time, financial) that your wedding will place on guests and your bridal party. For instance, if many of your guests are travelling from out-of-town it is thoughtful to arrange transportation for them to get to your ceremony and reception locations. Likewise, if your attendants are paying for their attire you may want to cover their hair and makeup costs on the wedding day.
Technical troubles. We've all been to a wedding where the slideshow doesn't work! This creates an awkward pause in your reception program. If you absolutely must have a slideshow, ensure you have the right equipment and cords rented well in advance and that someone is responsible for testing it before the reception.
Not having a contingency plan. Of course your wedding day will be warm and sunny with a gentle breeze…but what if it's not!? So many couples forget to plan for things going wrong. If you're having an outdoor wedding, make sure that you have an alternate location in case of inclement weather – especially here in Alberta!
Running out of alcohol. If you're supplying your own liquor for the bar it's always better to overbuy and return the unopened leftovers than to run out before the party is over. There are lots of helpful resources online for estimating quantities required. (Note: The same rule applies to candy or sweet tables!)
Reception program runs too long.

After approximately 2.5 hours sitting at their dinner tables guests will get antsy, so you want to ensure that your dinner service and speeches are completed within this time period.

Family or friends had to "work." Paying a little extra for décor setup and teardown services through your decorator, coordinator or venue could save your sanity and be a real gift to your loved ones. They'll appreciate being able to enjoy the wedding weekend without the added stress of cleaning up after the party.
Forgetting to thank people. You may think you can "wing" your speech, but it can be difficult to think clearly on such an emotionally charged day. Too often couples don't take the time to prepare their thank-you speech in advance and they miss thanking very important people (in some cases their parents who have footed the entire bill for the day)!
Not enjoying the planning process. Most couples spend 12-15 months planning their wedding day…that's a lot of time to be stressed out about wedding details! Don't let the planning consume you. Take breaks, delegate tasks to those who offer, and if you know you just don't have the time or energy to put into the process, hire a planner or coordinator to take some or all of the planning off your plate.
Jennifer + Team | Jennifer Bergman Weddings
Edmonton Wedding Planning + Design
09/19/11
Everyone wants to hear from the bride + groom on their special day. Take this time to express gratitude to all the people who contributed to your wedding – whether through emotional or financial support.
I can't stress how important it is to prepare your speech ahead of time – don't leave it to the last minute! Simply jotting down a few notes will help ensure you don't forget anyone in the heat of the moment. Here is a guideline for consideration:
Thank guests for coming
Special thanks to out-of-town guests, especially those who have travelled a long way
Make mention of special people who could not be at the wedding or who have passed away
Minister / officiant
Venue / venue manager / chef / serving staff
Wedding vendors, such as the photographer, musicians, etc.
Ushers
Ceremony readers / candle lighters
Guestbook attendants
Emcee(s)
Friends or family members who have helped with wedding preparations (eg. aunt made cake, cousins helped assemble invitations)
Wedding party: bridesmaids, groomsmen, flower girl(s), ring bearer(s)
Parents
Thank each other
Jennifer
Edmonton Wedding Planner