Posts Tagged: Winter inspiration board
08/3/10
I love love. I love reality television. These passions translate into the only show I watch religiously: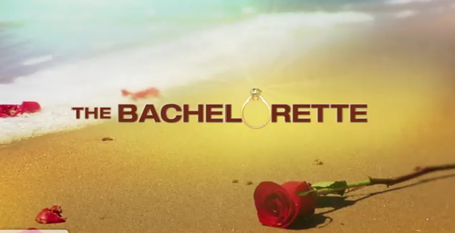 For those of you also obsessed with The Bachelorette and Bachelor series, I'm sure your eyes were glued to your television screens last night to find out who Ali would choose: Chris or Roberto. In the end, Ali + Roberto's love connection was just too strong for the sweet Cape Cod landscaper to compete with, and Chris was sent home before the final rose ceremony.
To celebrate Ali + Roberto's engagement, here's a wedding board inspired by Ali's favourite colour – yellow – and Roberto's love of baseball: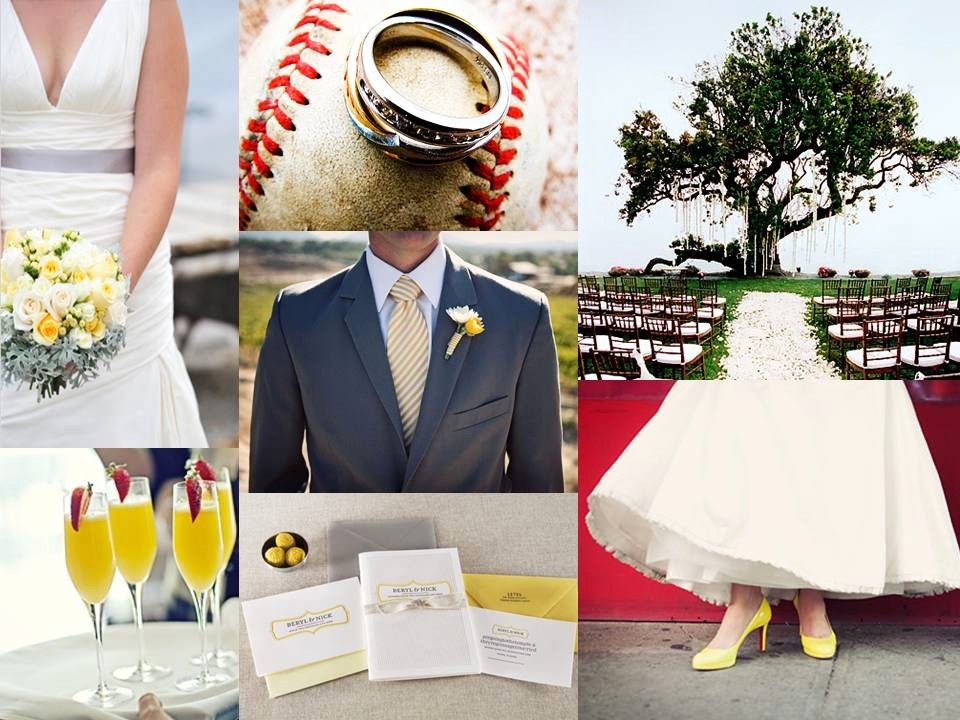 Now we just have to wait and see if Ali + Roberto can make it to their wedding day…here's hoping they have better luck than Jake + Vienna!
Jennifer
Photo Credits (L-R): Dress and Bouquet – Wedding Chicks; Rings on Baseball – Rob and Lauren; Grey Suit – Elizabethanne Designs; Ceremony Site – In Style Weddings; Signature Cocktails – The Knot; Stationary Set – Alee & Press; Yellow Christian Louboutins – Wedding Chicks.
01/10/10
Winter weddings in our Canadian climate are often dismissed, but I'd encourage you to consider one for your soiree. Having an off-season wedding can come with a lot of perks – discounted rates from vendors, enthusiastic guests who are happy to attend a wedding outside of the busy summer season and best of all, it's the perfect time to escape on your hot-weather honeymoon!
Today's winter wedding inspiration board is an icy blue, pewter and white palette warmed up by the twinkle of candlelight, delicious comfort foods and a stylish faux-fur wrap. Enjoy!
Jennifer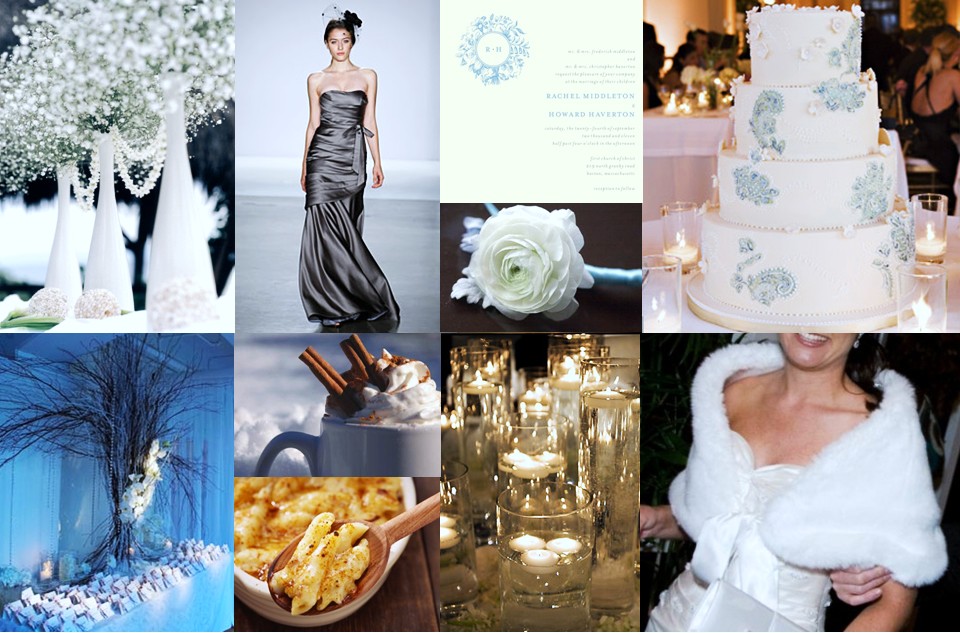 Photo Credits
Centrepiece: Pacific Weddings; Bridesmaid Dress: Melissa Sweet; Invitation: Wedding Paper Divas;
Boutonniere: Ritzy Bee; Cake: The Knot; Winter Reception: The Knot; Hot Chocolate: Cupcakes and Cashmere;
Mac & Cheese: Beecher's Handmade Cheese; Floating Candles: Project Wedding; Faux-Fur Wrap: Your Wedding Wardrobe.