Posts Tagged: what to wear to stagette
08/1/11
Last week L2 Style, shared three gorgeous looks for your bridal shower…today, it's all about the stagette!
+  +  +  +  +  +  +  +  +  +  +
Your closest lady friends are about to whisk you away to a fabulous party celebrating your final weeks as a 'Miss'. After finding out what type of fete will be held in your honour (gosh, who wants to be caught wearing the wrong outfit to her own party?!) take a look at the options below and get ready to drool over these stagette-worthy looks!
Dinner and Drinks: Revolve Draped Back Dress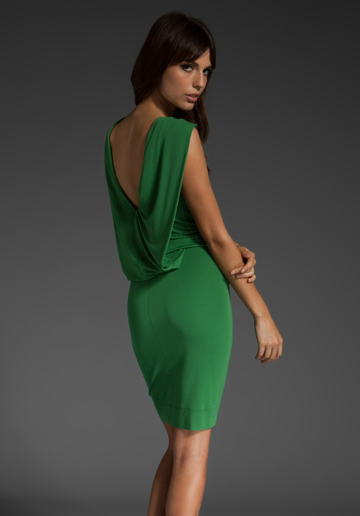 This dress is perfect for a sophisticated dinner and après-dinner drinks with your closest gal pals. It's feminine, sexy yet very chic. The back of this dress is daring without showing off too much.
Lazina's Style Tips: Add a chunky, strappy black sandal (the higher the heel the better), a matte charcoal arm cuff (adds a bit of edge to this dress), and gun-metal tear-shaped earrings (a long tear-shape would look awesome). Opt for a dramatic smoky eye and a nude lip. Go for a big, full mane!
Day Cruise: Tory Striped Minidress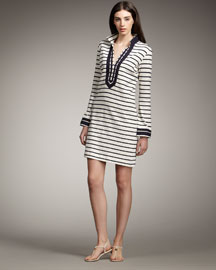 This fun, nautical-inspired print with bold navy accents will surely make you the center of attention.
Lazina's Style Tips: I'd suggest adding bold accessories (don't go "overboard" now) to bring the whole look together. Flat gold sandals, oversized sunglasses, a chunky gold ring and a big sunhat would work perfectly with this look. Use an oversized tan handbag to carry essentials like sunscreen and water.
Bar/Lounge Crawl: Catherine Malandrino Stretch Silk-Satin Playsuit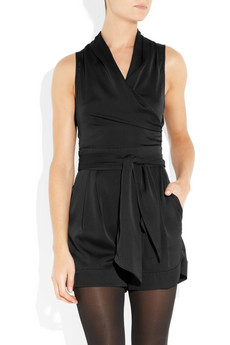 This sexy, playful onesie is perfect for a night on the town. It's versatile enough to take you from the hottest nightclub to a funky lounge.
Lazina's Style Tips: Since there's a sophisticated yet funky feel to this playsuit, I'd suggest really having some fun with the accessories: dark metallic gold platform heels, several chunky bracelets and bangles (stacked on one arm), a deep metallic burgundy clutch and jewelled chandelier earrings. Go with a deep plum or red lipstick for some added drama.
+  +  +  +  +  +  +  +  +  +  +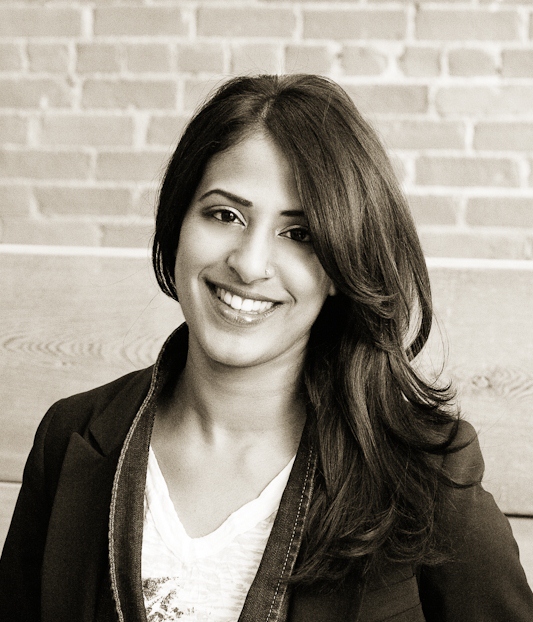 About the Contributor:
Lazina Mckenzie is the founder of L2 Style, a style consulting firm based in Alberta, Canada. Lazina believes that the style (or image) you share with others communicates a lot about who you are. She regularly has her clients articulate the answer to the question: what do you want your style to say about you? More recently, Lazina has opened her service offering to work with brides-to-be and their bridal parties. She is happy to provide her advice and support to brides on their very special day.