Posts Tagged: Vintage Wedding
04/2/12
Brides-to-be, you're in for a treat this week. We have expert hair designer Patricia J. lined up to share bridal hairstyle inspiration for three different looks: vintage, fairy tale and chic + relaxed.
Patricia is an all-star stylist at Celebrity Hair Salon in downtown Edmonton. Whether you need a gorgeous style for your wedding, a fresh new cut and colour, or just a trim – give her a call. I know firsthand how amazing this lady is…she's the only one I trust to look after my locks! Stay tuned to the blog this week for more inspiring wedding hairstyles and accessories.
+  +  +  +  +  +  +  +  +  +  +
With a vintage bridal style, the hair is all about elegance. It's great to be inspired by those Old Hollywood babes such as Grace Kelly or Audrey Hepburn, but even with a vintage style you want your hair to look current – not dated.
Wearing your hair down in sexy, glamourous waves is always good. If you want to have fun with the wave, pin it up into a faux bob, or roll up the front for a faux fringe. The classic bouffant is a great option for a full updo. lace veils or vintage combs/pins are key accessories to bring this look together.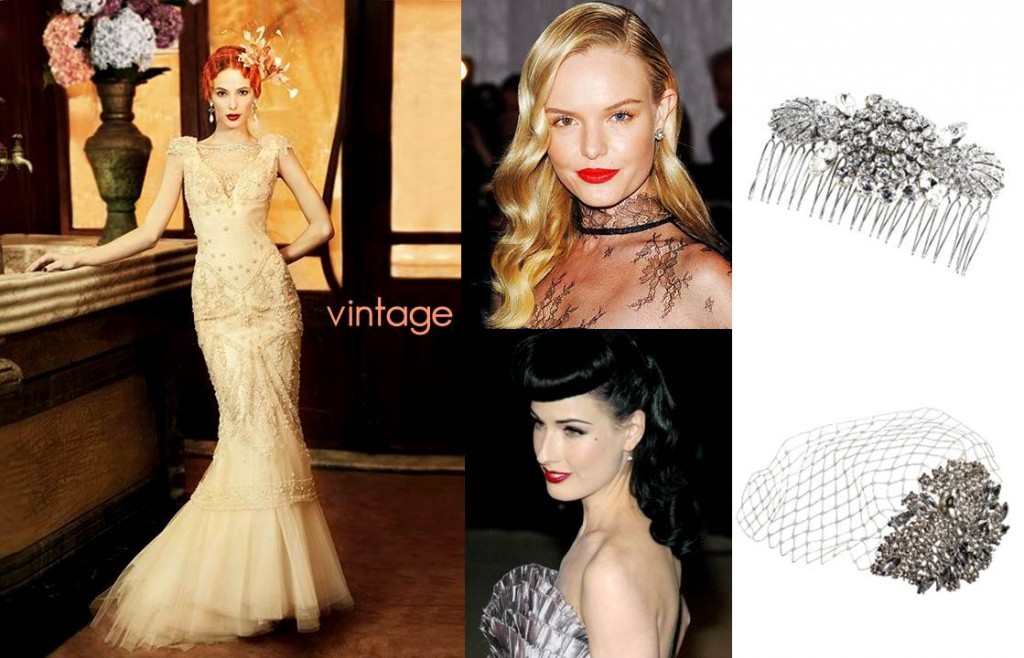 Jennifer
Edmonton Wedding Planner + Designer
Photo Credits: Art Deco Dress – YolanCris; Kate Bosworth – InStyle; Dita Von Teese – Zimbio; Comb and Birdcage – Queens & Bowl.   bestweddingveil