Posts Tagged: orchid bouquet
01/17/11
Tip #7: Be consistent.
It's easy to get distracted by all the wedding ideas out there. Between bridal fairs, magazines and countless blogs it can certainly become overwhelming, but the key to a well designed event is consistency. Once you've taken the time to determine your wedding style, theme and atmosphere – don't deviate! From the style of your dress to the centrepieces and the linens on the table, the visual components of your wedding should tie together nicely and reflect a similar look and feeling.
One of the easiest ways to ensure a cohesive event is through your wedding stationary. The wedding invitations speak volumes about what kind of event your guests can expect to attend, so it's important to ensure this first impression truly reflects your wedding style. The level of formality will be communicated through the type of papers, fonts and wording that you use, as well as your venue selections. It's wise to carry the design of your wedding invitations through to all other wedding stationary, such as ceremony programs, table numbers, menu cards, favour tags – even your guestbook.
Here's an example of one of our couples' weddings:
Wedding Theme: "Urban Glamour"
Wedding Style: Modern, edgy, Hollywood glitz + glamour
Wedding Colours: Black, white and turquoise
Details: White phalaenopsis orchids, damask linens, crystal and feather centrepieces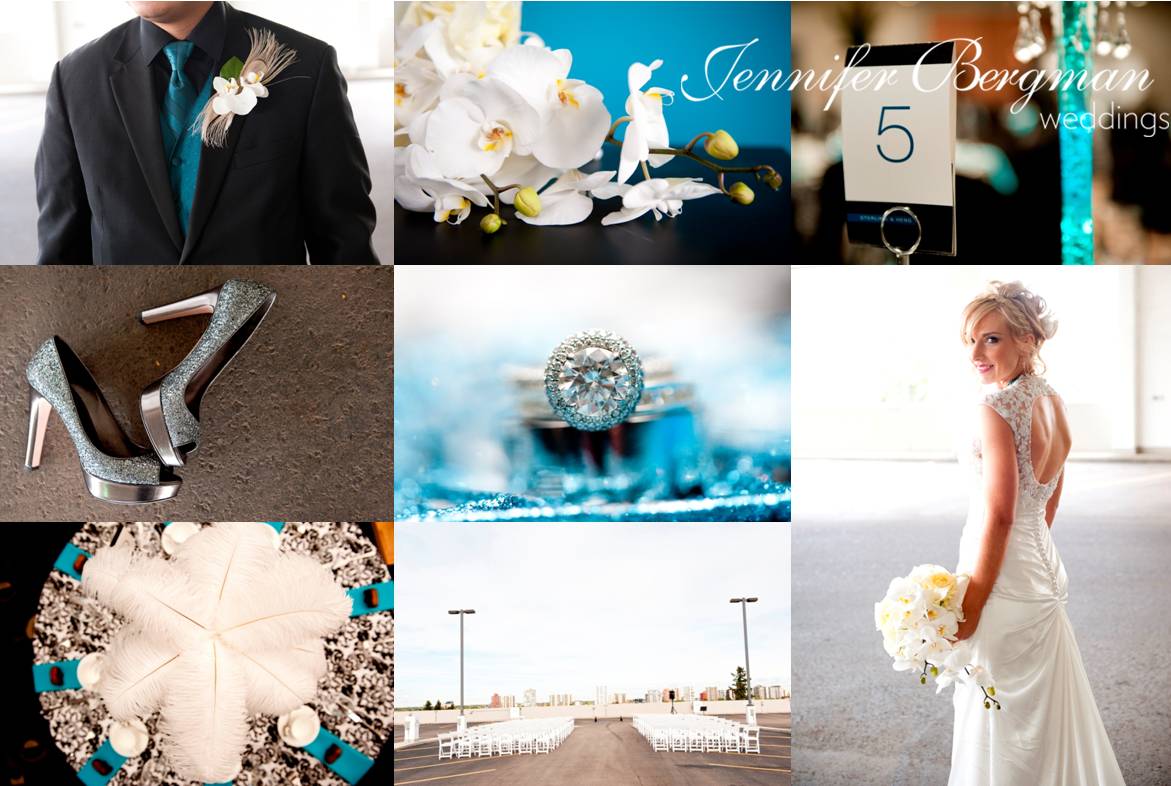 +  +  +  +  +  +  +  +  +  +  +
Have you heard about our lucky + in love contest? We are giving away FREE planning consultations to three couples! The entry form will be available this Friday, so keep checking back for your chance to win!
Jennifer
Photo Credit: JDS Photography.
04/11/10
Next step in our four weddings journey…bouquets! Historically, brides carried flowers and herbs down the aisle to ward off evil spirits. Today, the bride's bouquet is a crucial element to any wedding, as it conveys the wedding theme through its flower types, shapes, colours and textures.
Which one of these four very beautiful – yet very different – bouquets is your fave? Leave a comment with your vote!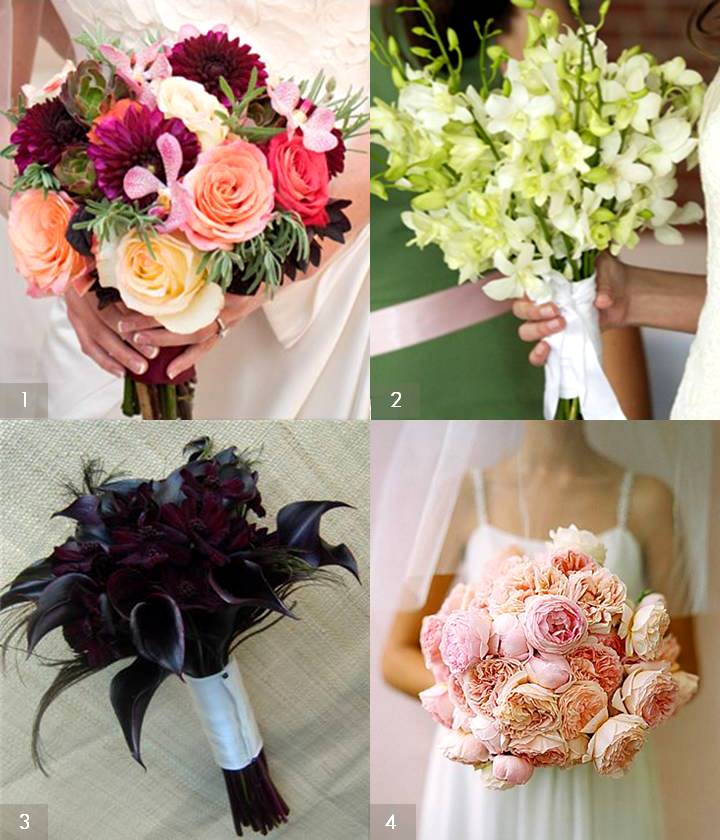 1 – Mixed pink, peach and plum roses, orchids and succulents
2 – White dendrobium orchids
3 – Purple calla lilies and peacock feathers
4 – Pink and peach cabbage roses
Jennifer
Photo Credits: The Knot, The Knot, Bridella, Martha Stewart.