Posts Tagged: Mountain wedding
10/17/16
I first met Cybil and Brian in Toronto, Canada on the very day they were leaving the country and moving to São Paulo, Brazil! Despite such a huge life change on the horizon, they were incredibly calm when we chatted about their Jasper Park Lodge destination wedding.
Besides getting married in a beautiful, natural location, Cybil and Brian wanted to celebrate with all their favourite people over the course of a weekend since they would be living so far away before the wedding. Jasper is a special place for Cybil and her family, as they spent a lot of time there throughout her childhood skiing at Marmot Basin and enjoying summers at the lakes.
Cybil and Brian's love radiated throughout the wedding weekend and we felt so welcomed by these warm families. Meaghan Milne, a good friend of the couple, travelled from Toronto to photograph their day, and she did an incredible job capturing the emotion of the festivities.
Cheers to love and adventure!
Jennifer + Team | Jennifer Bergman Weddings
Jasper Wedding Planning + Design
+  +  +  +  +  +  +  +  +  +  +
Credits:
12/16/10
Living in Alberta we are so lucky to have the Rocky Mountains as our "backyard." More and more Edmonton couples are opting to take advantage of this local splendor by having a Rocky Mountain destination wedding.
I worked with Jodie + Chris for just over a year to plan their fall-inspired wedding weekend at Fairmont Chateau Lake Louise – one of the most breathtaking locations in Canada. Jodie + Chris are very detail-oriented and thought carefully about each component of their day. It was this consideration and their personal touches that made guests feel so taken care of throughout the weekend. By planning a welcome reception the night everyone arrived to a "Sunday Hugs" breakfast the morning after the wedding, Jodie + Chris were able to spend a lot of time with their family and friends who had travelled from across the country to celebrate with them.
The ceremony took place on the Victoria Terrace at Chateau Lake Louise. We lucked out with a beautiful, clear day and unseasonably warm weather for late October! The reception followed in the Fairview Dining Room, and after an extraordinary gourmet meal the party went into full-swing with some unique entertainment. Two highly talented duelling pianists – Lindsey Nagy and Jesse Peters – performed a variety of hits (including the Fresh Prince of Bel-Air rap!) and kept the dance floor full all night.
Eric Daigle Photography did an amazing job capturing the day! Check out the beautiful images of Jodie + Chris' wedding below, and pop over to Eric's blog to see all his recent work.
Special thanks to Ewa for assisting!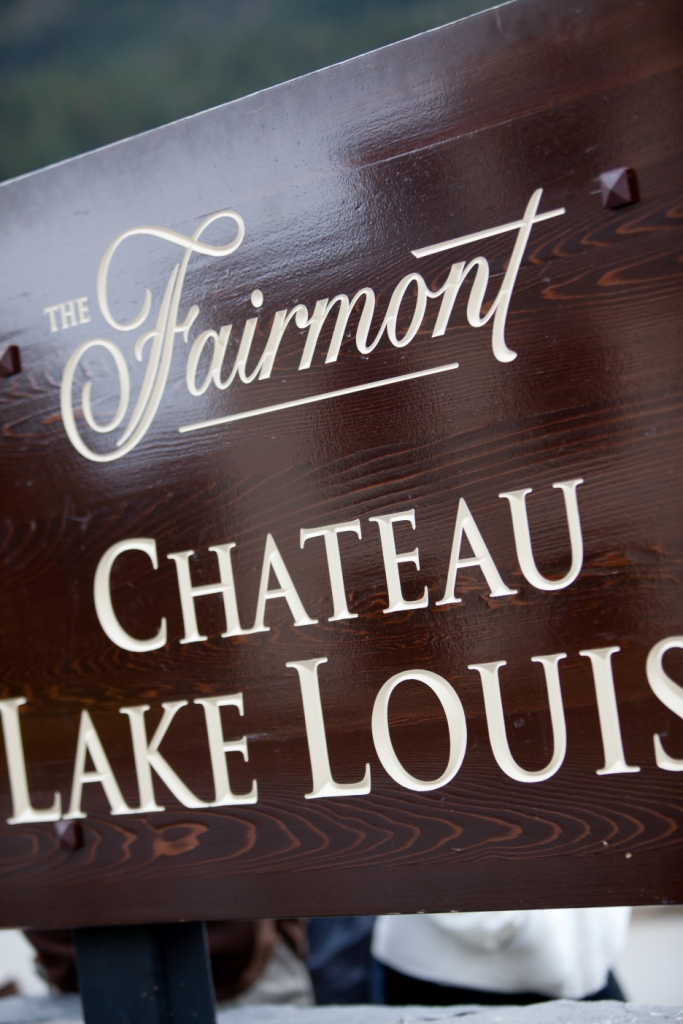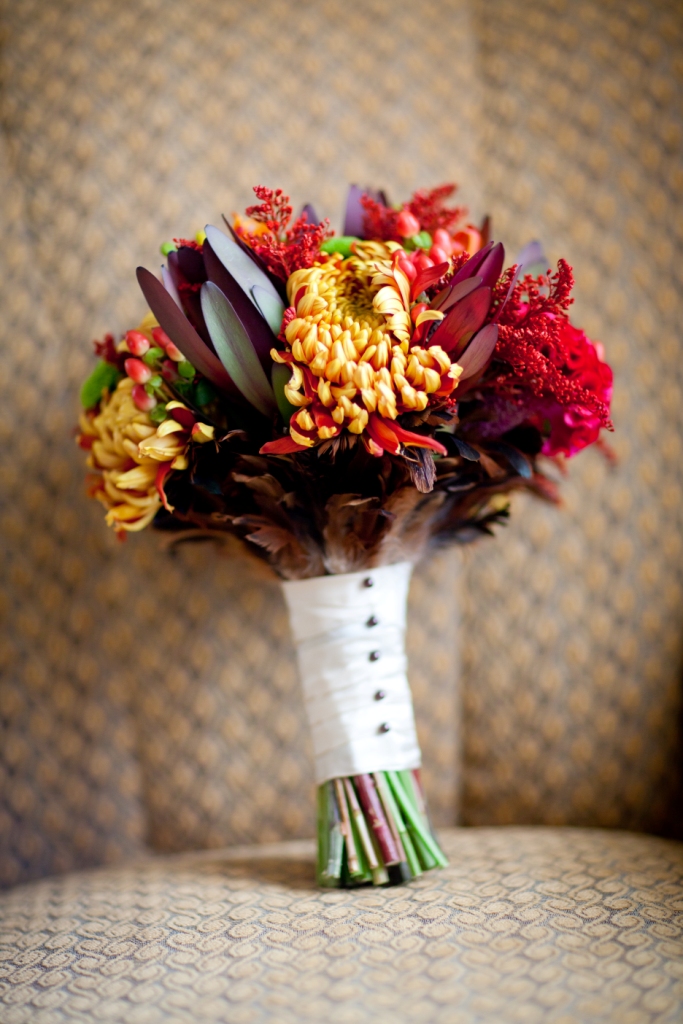 Jodie's beautiful fall wedding bouquet by Willow Haven Flower Shop featured a variety of textured flowers, berries and feathers.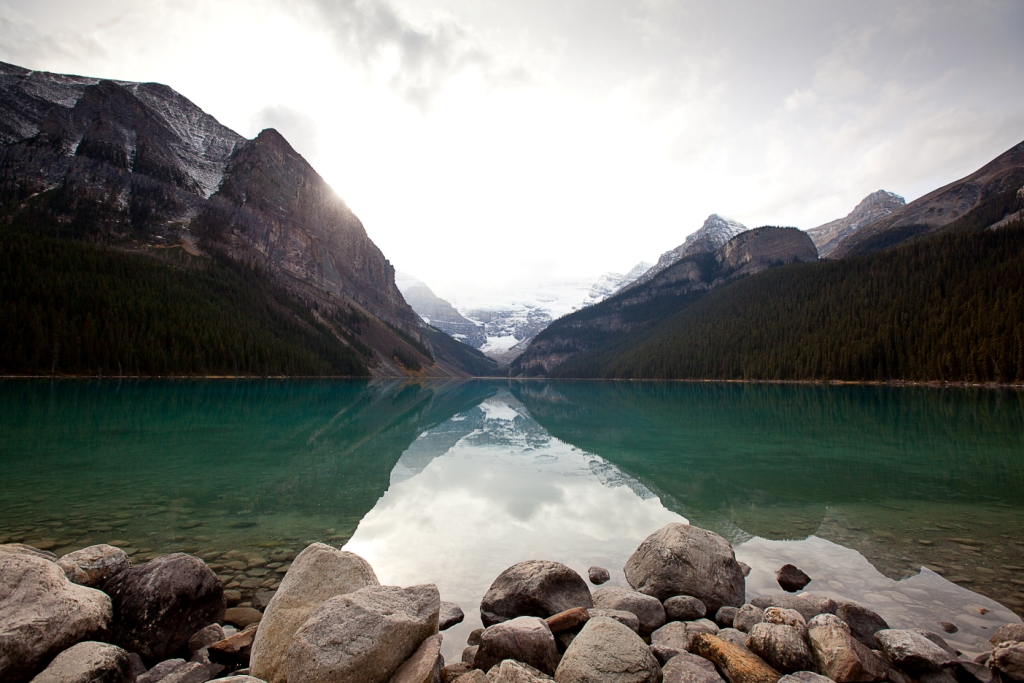 The glistening turquoise water at Chateau Lake Louise – not a bad place to take wedding photos!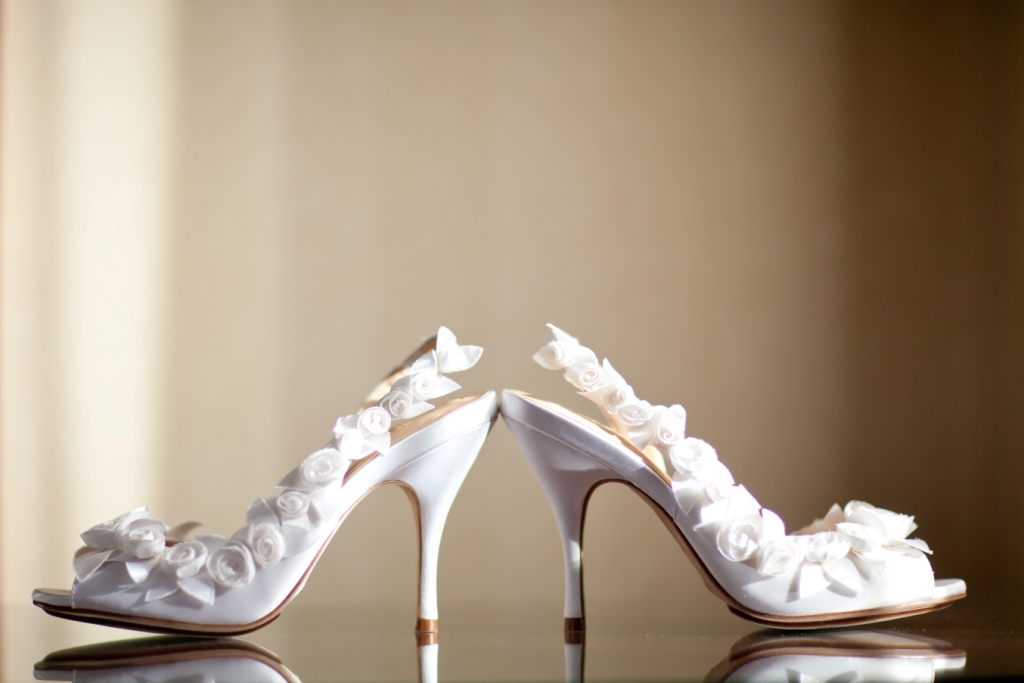 Jodie wore a pair of stunning white Cole Haan weddings shoes with mini rosettes.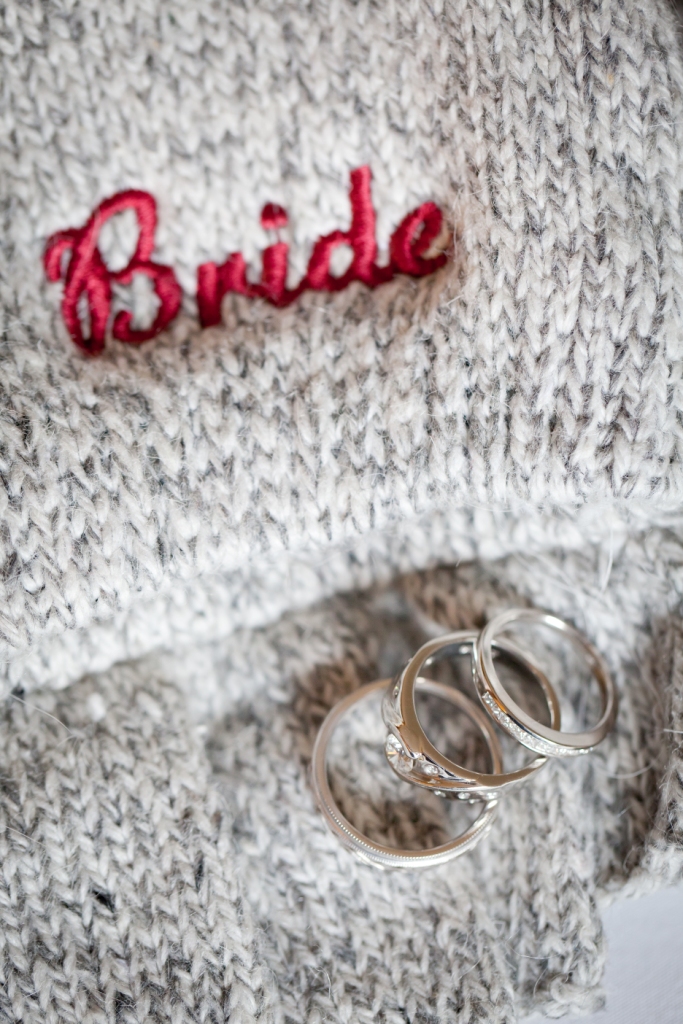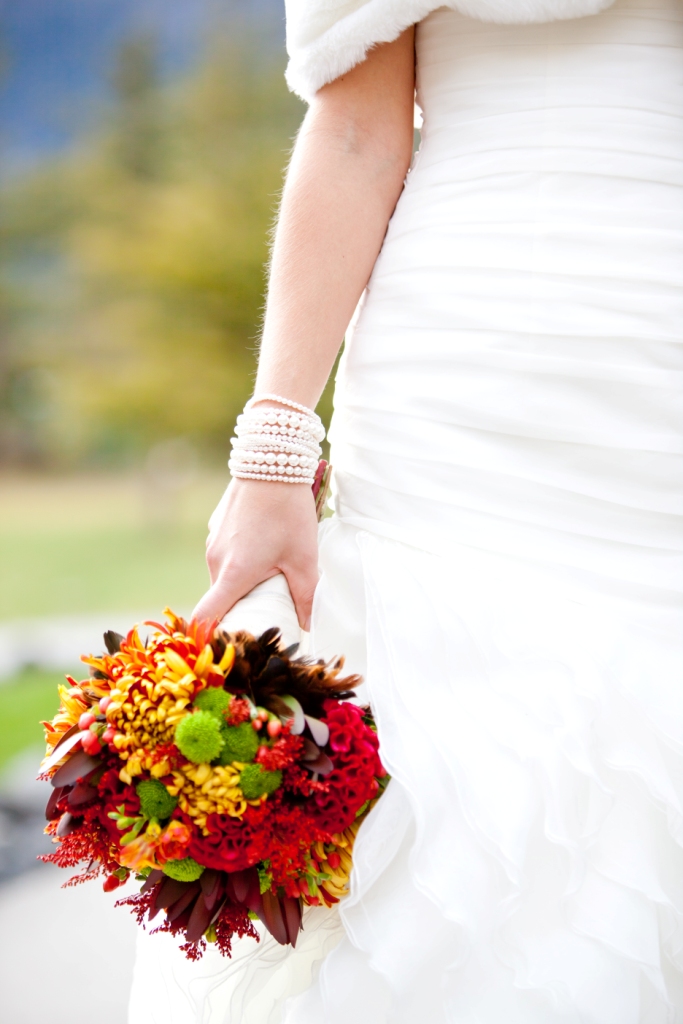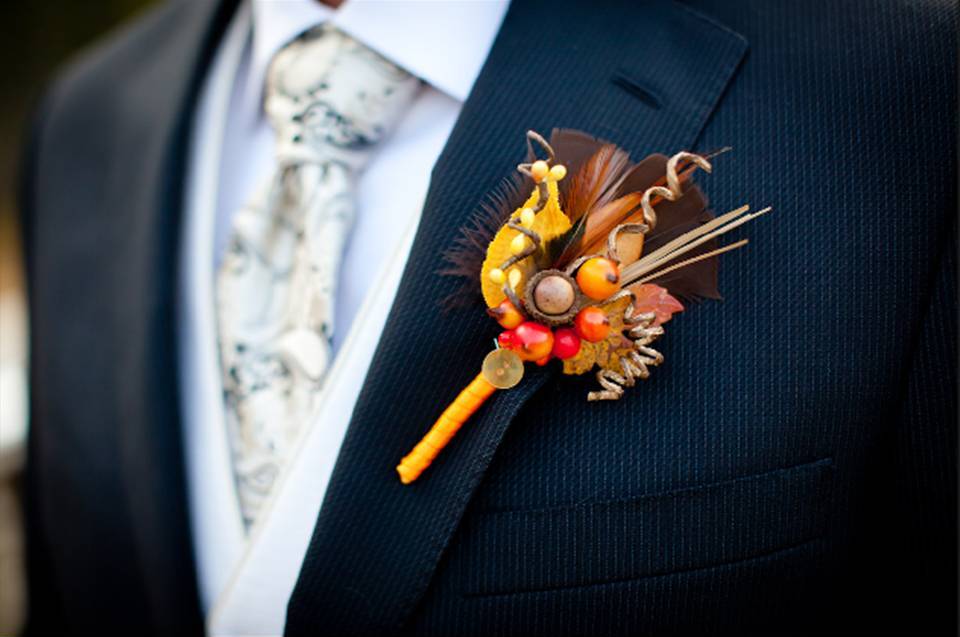 The fall boutonnieres were custom made by Etsy vendor, Erica Cavanagh.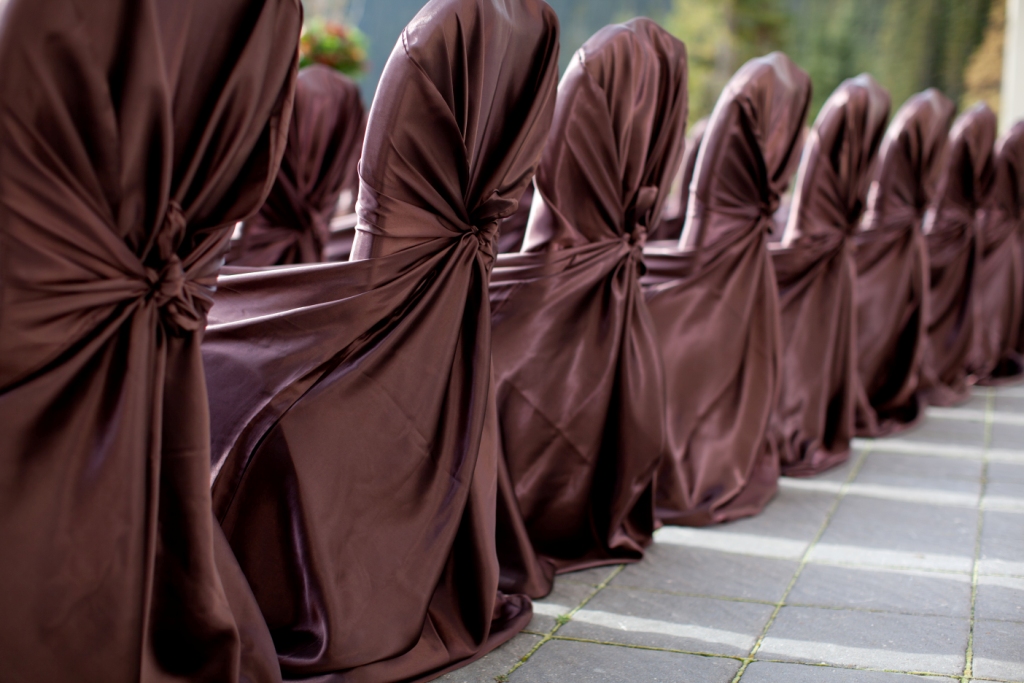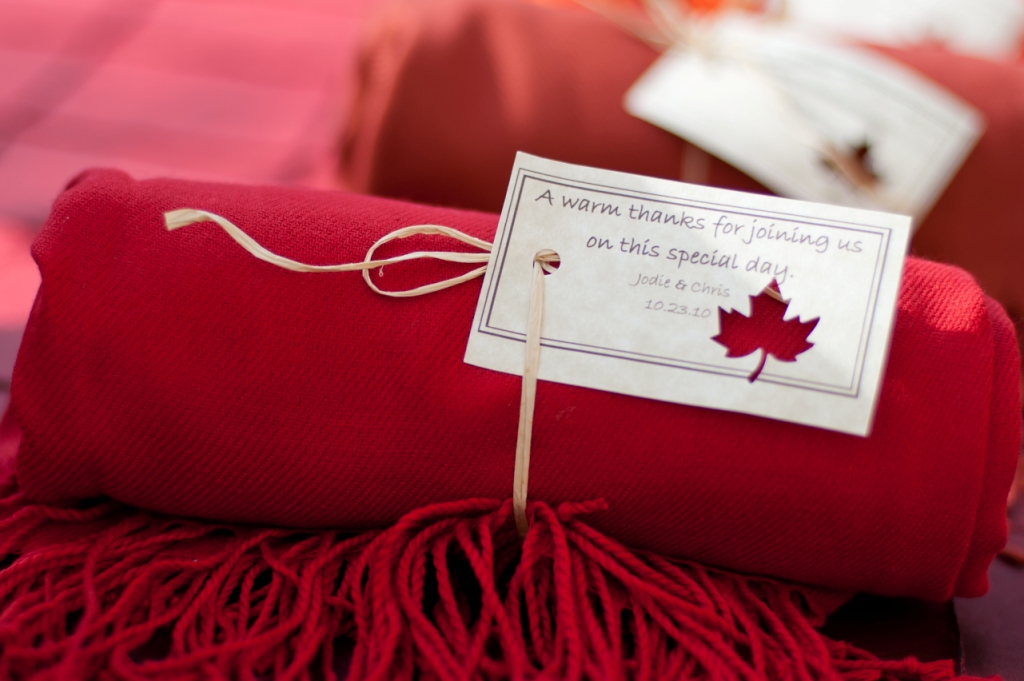 Jodie + Chris opted to give functional "his and hers"  favours to their guests. The ladies received warm pashmina shawls in the wedding colours to wear during the outdoor ceremony, and the guys were given Swiss Army Knives etched with the wedding date!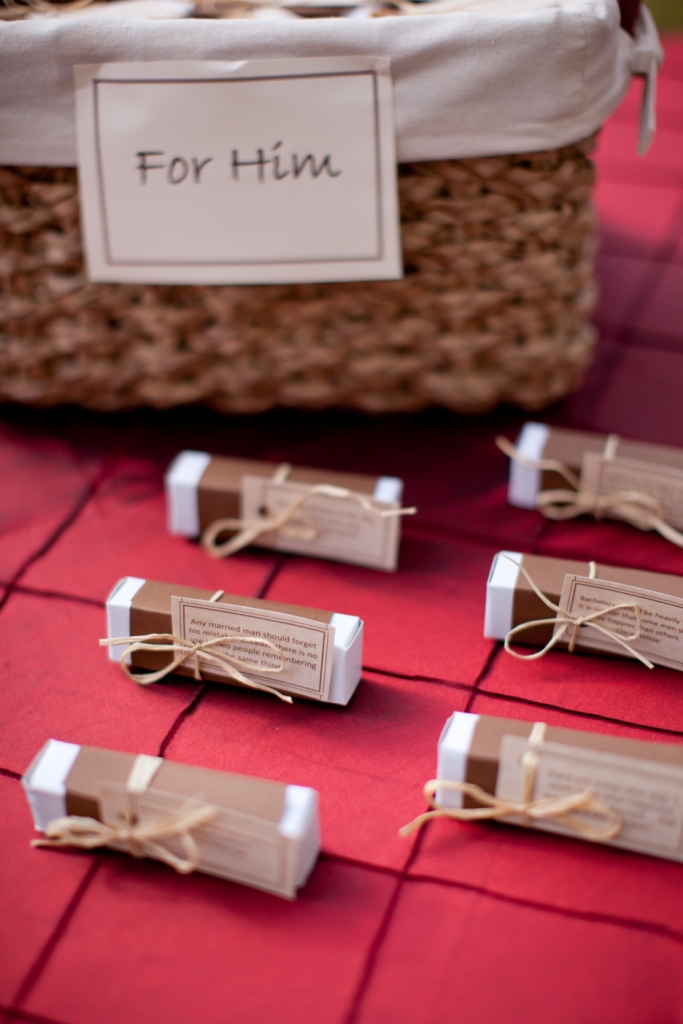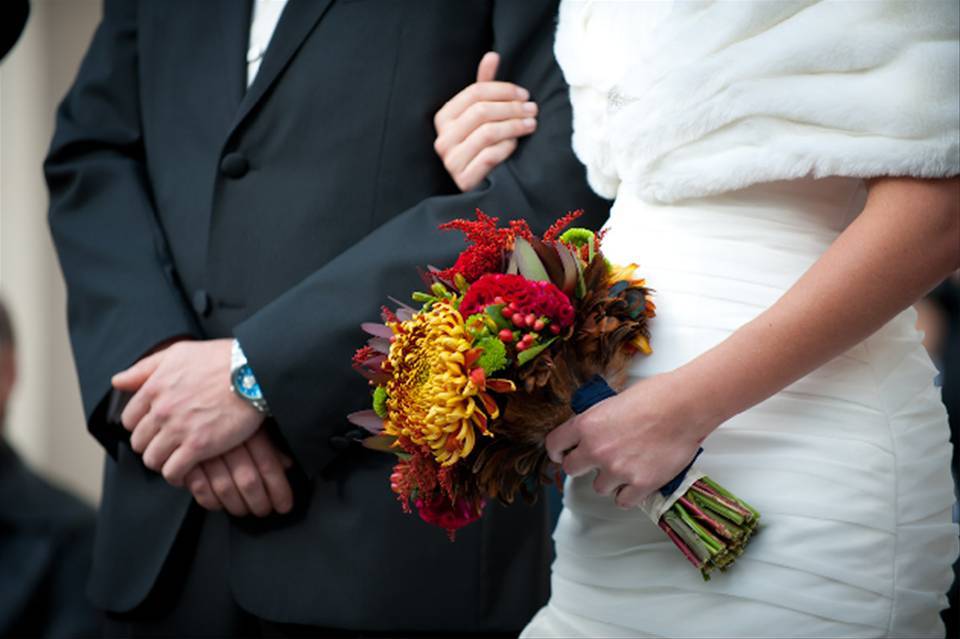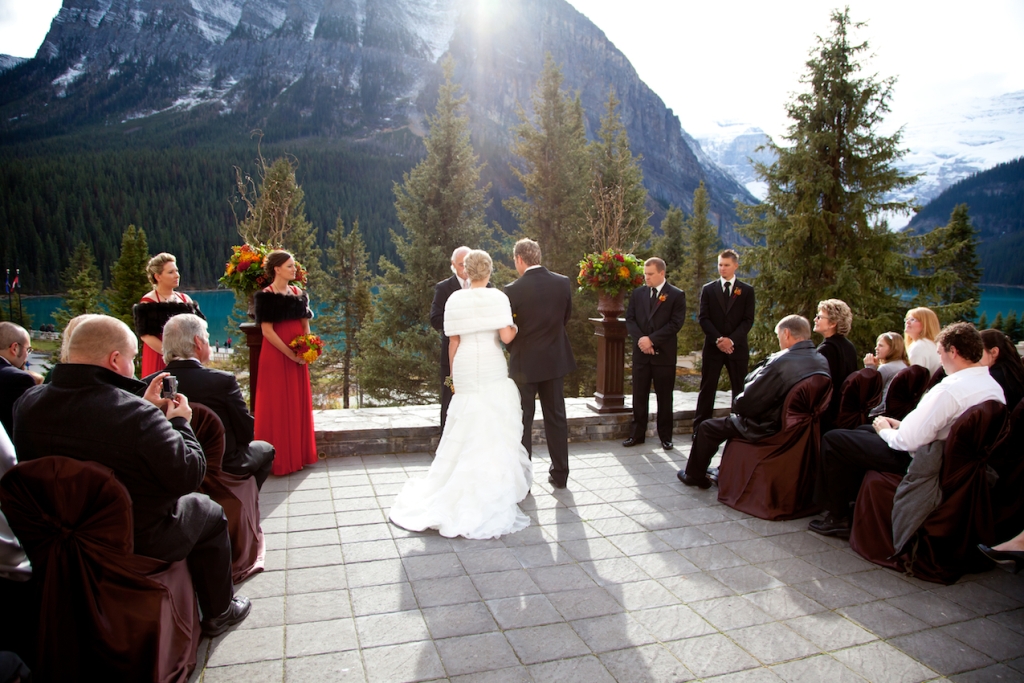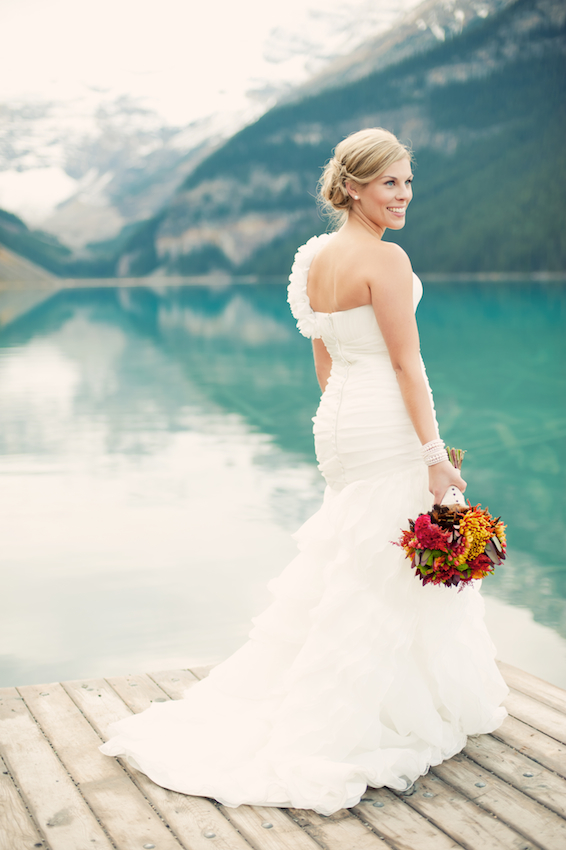 Jodie was a GORGEOUS bride! Her gown is Allure 8705 from Bridal Début.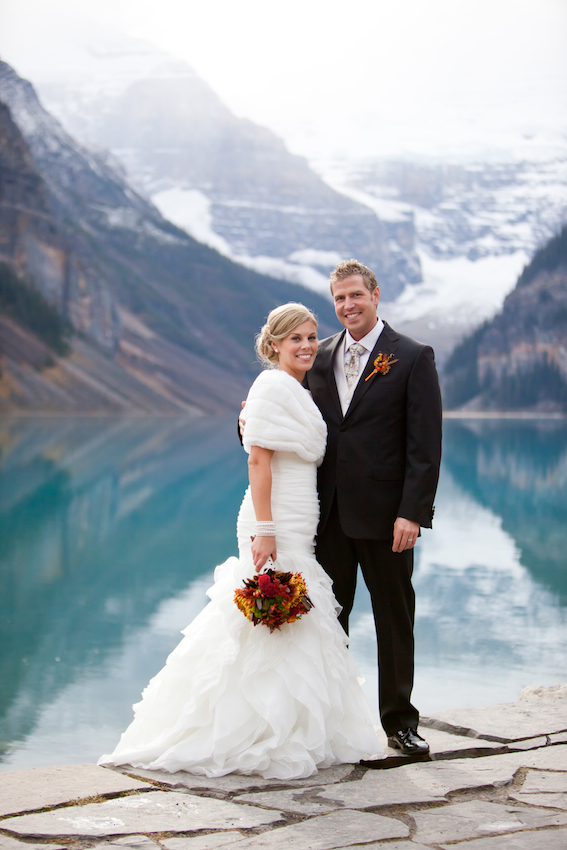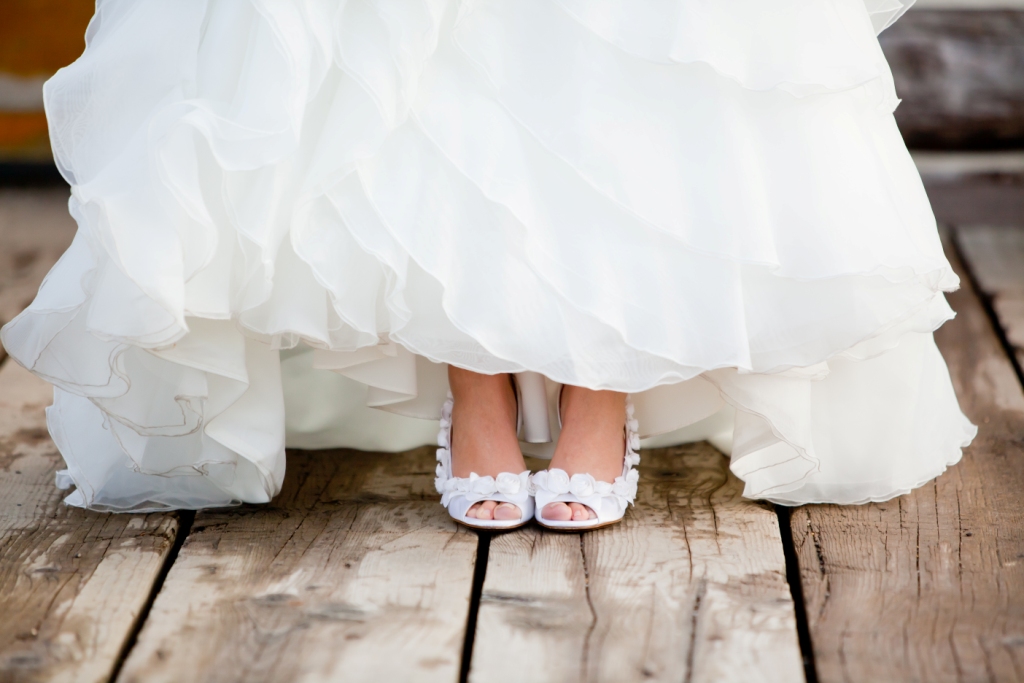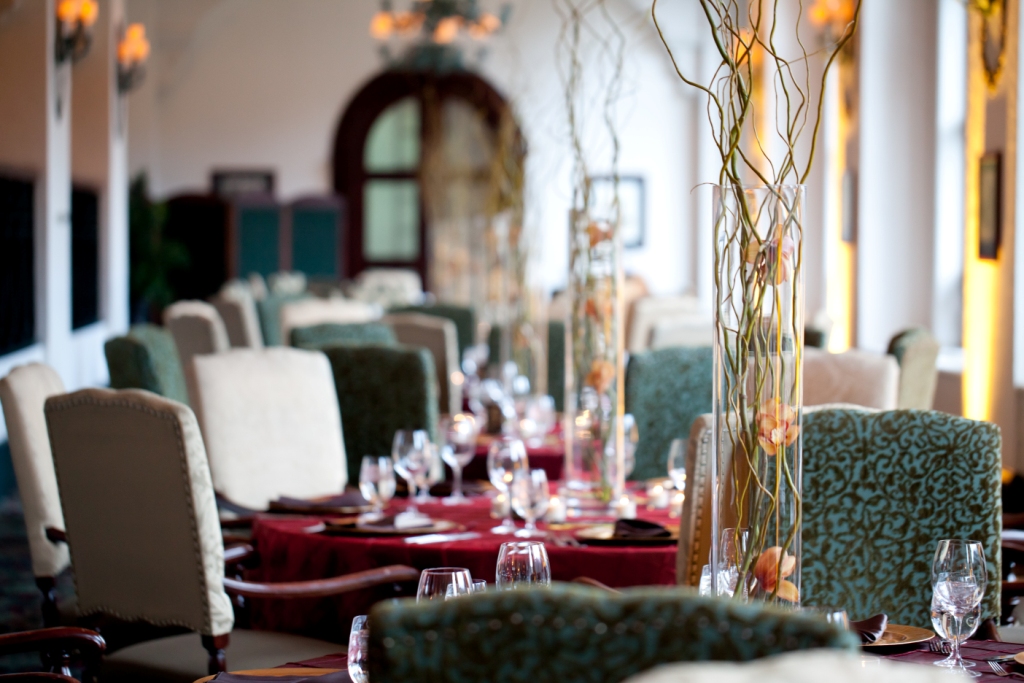 The tables were dressed with rich burgundy pintuck linens, gold charger plates and chocolate brown satin napkins. Tall cylinder vases with curly willow and burnt orange cymbidium orchids helped complete the look while adding a subtle touch of  "fall" to the reception décor.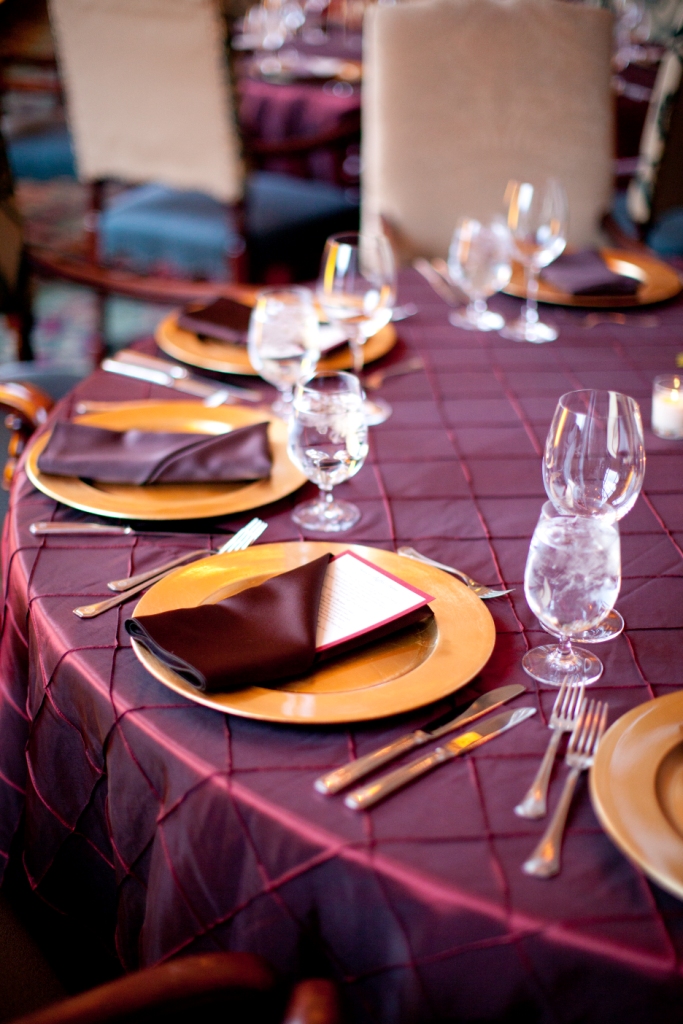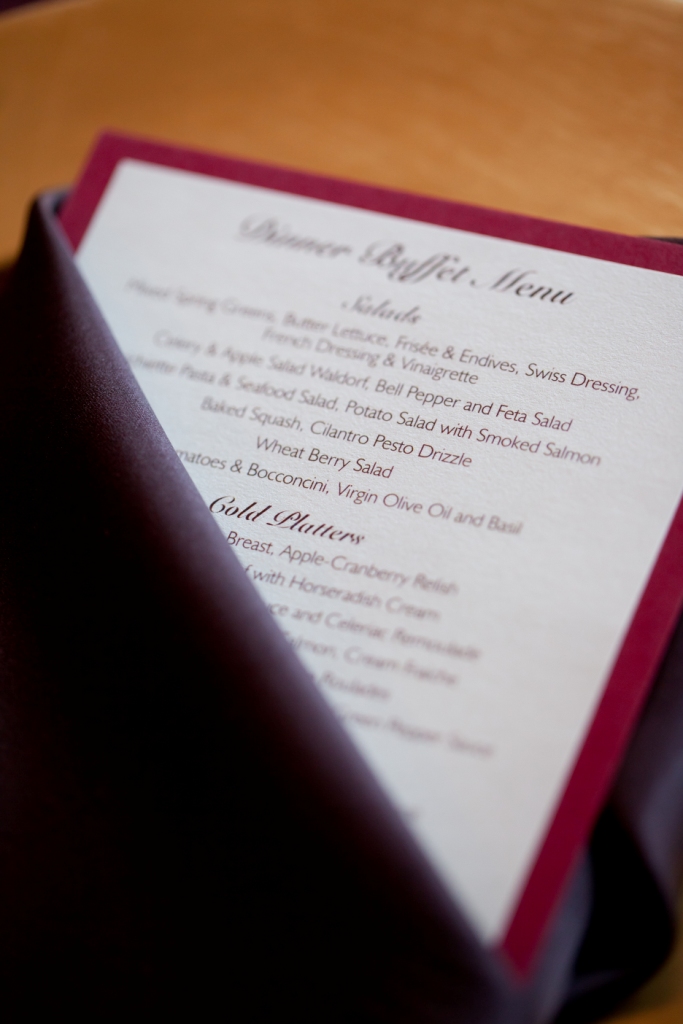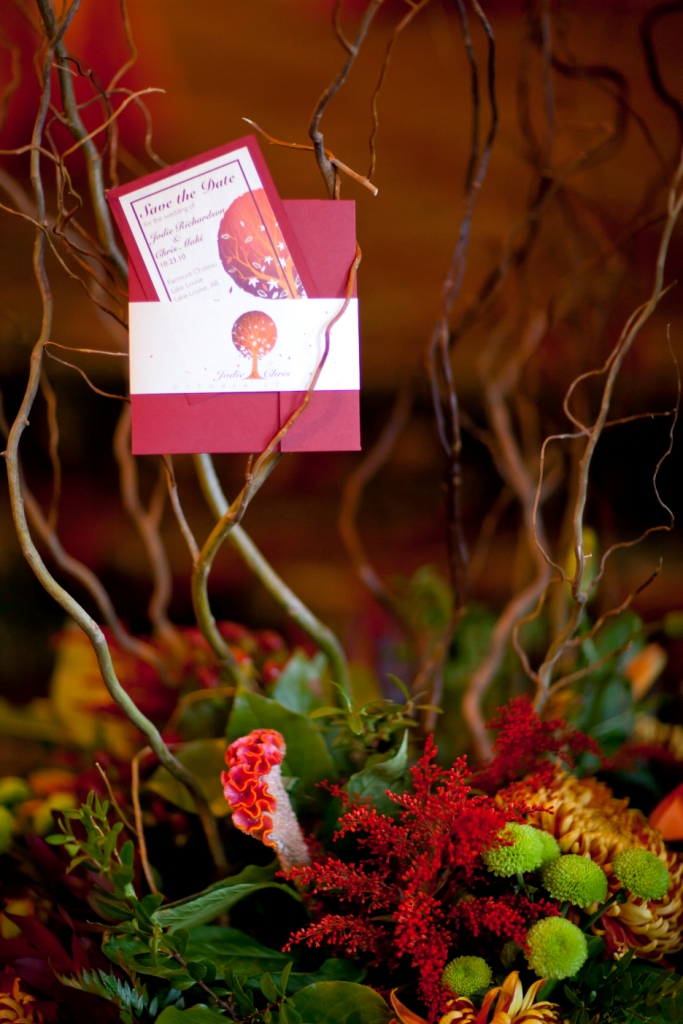 The save-the-date cards, invitations and reception stationary were designed and printed by The Paper Tree.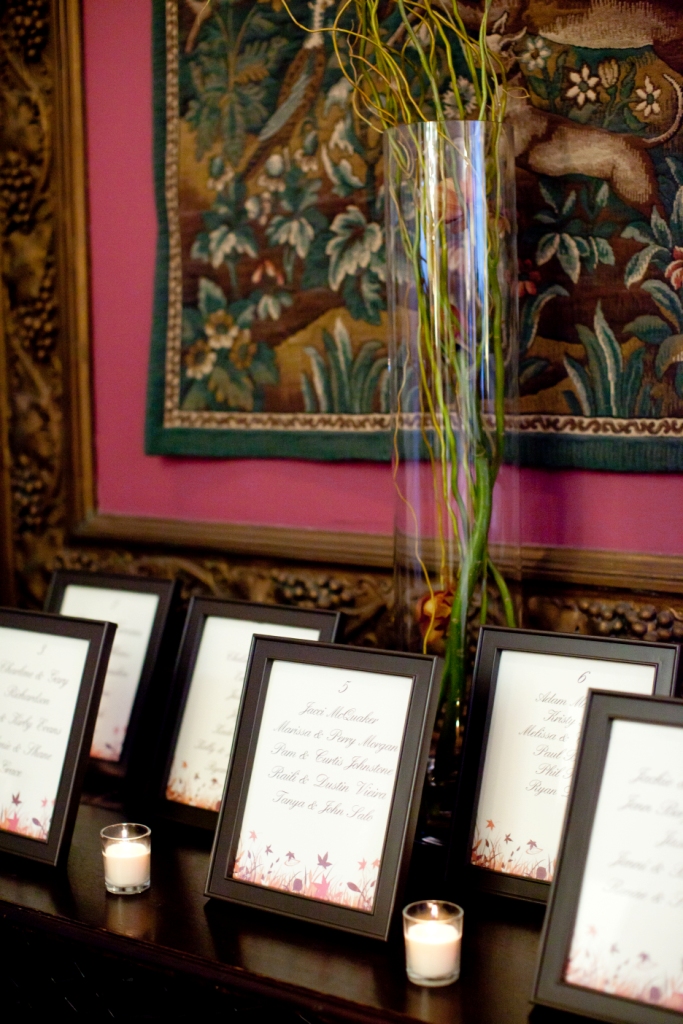 Instead of a traditional seating chart, Jodie + Chris used picture frames to display guest table arrangements.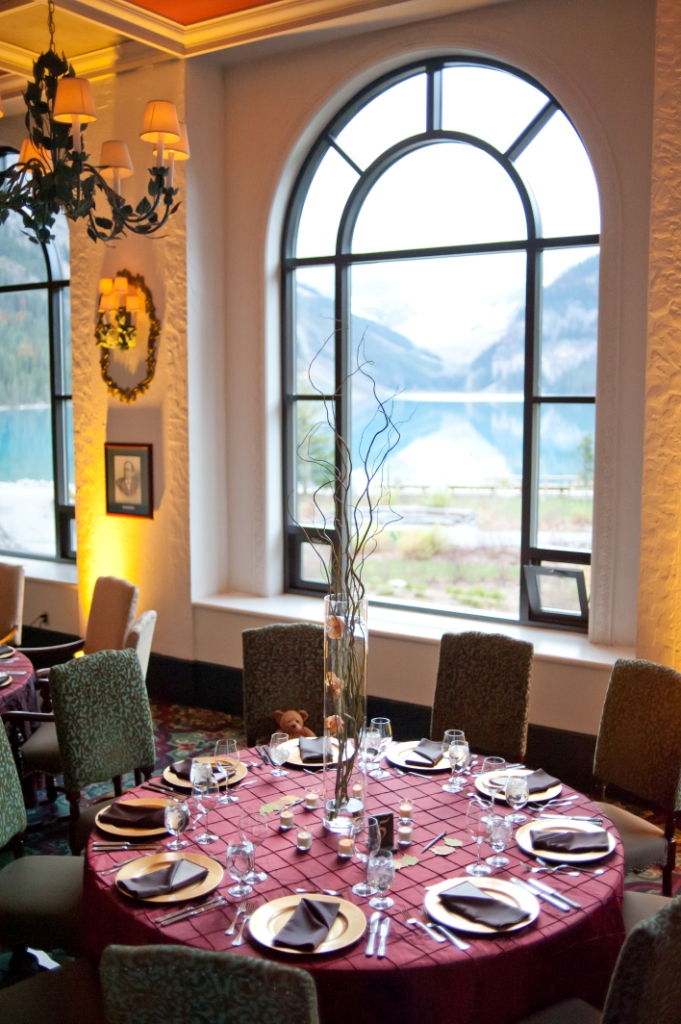 Congratulations on your marriage, Jodie + Chris. All the best in the future!
Jennifer
Photo Credit: Eric Daigle Photography.
07/11/10
Dorothy + Chad were married in Jasper, Alberta over the May long weekend (you may remember the sneak peek I shared a while back). I began working with this down-to-earth couple in February 2009, and after 15 months of planning it was so wonderful to see them enjoy the day with their family and friends in the Rockies.
The wedding reception was held at The Sawridge Inn & Conference Centre, and the day was captured beautifully by A Different Angle Photography. Guests danced the night away to tunes played by DJ Tommy of Jasper's Alpine Music. Special thanks to Christine for assisting me throughout the day.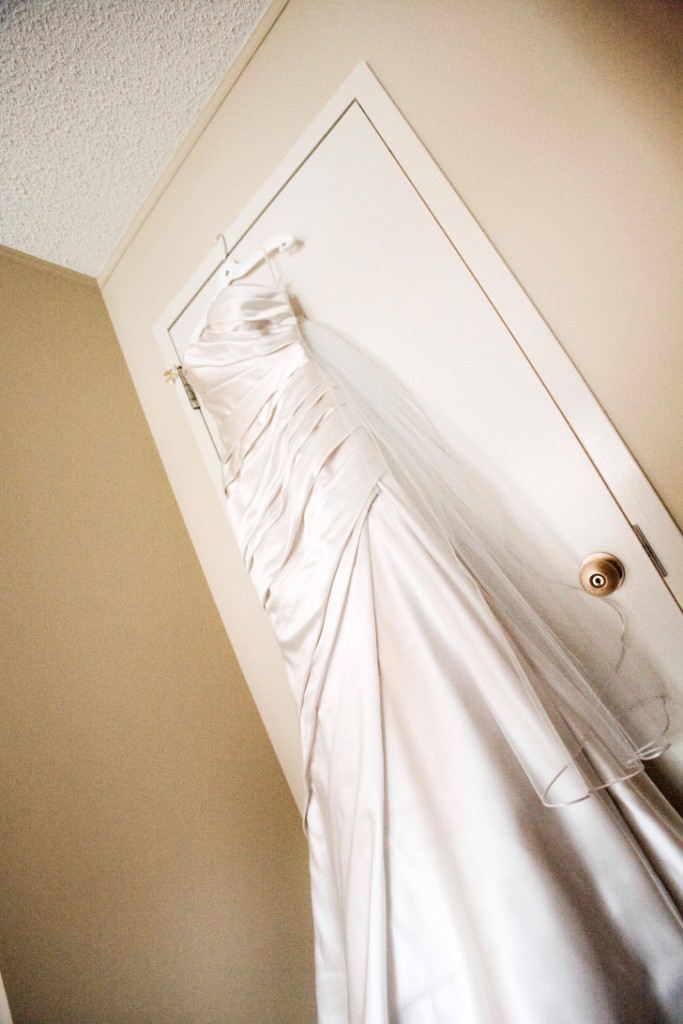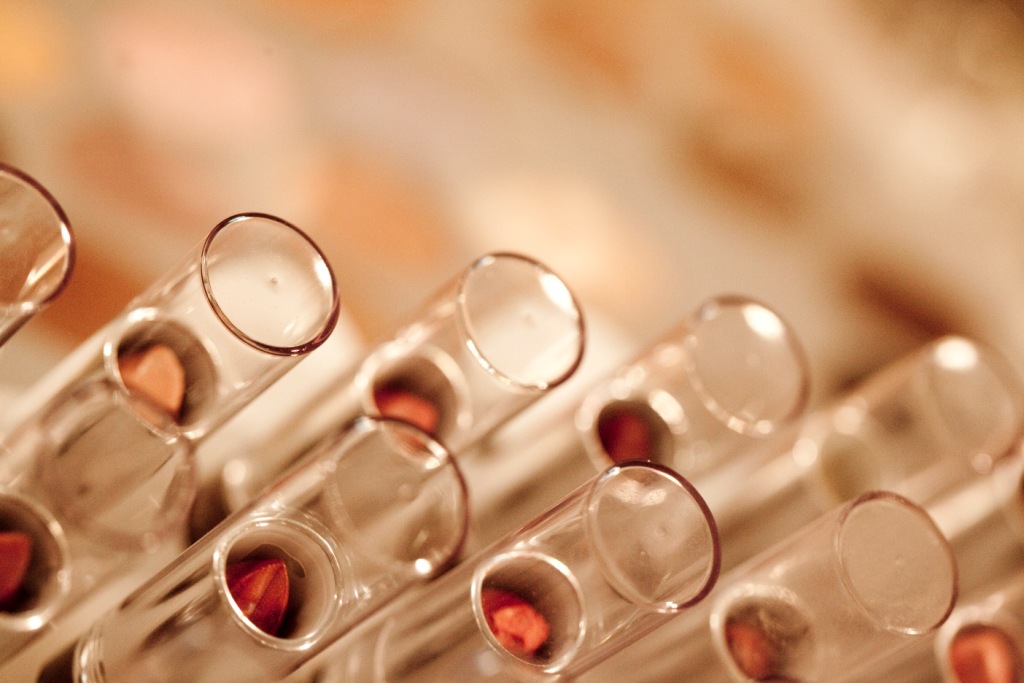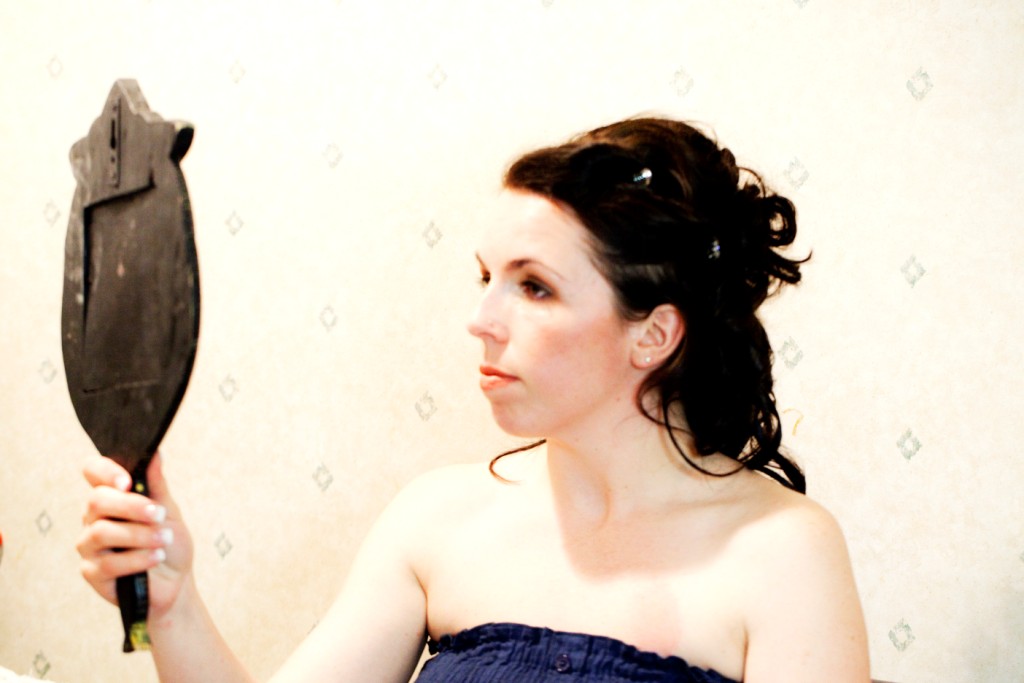 Dorothy + Chad's son, Chase, is the cutest little boy! He had the important job of being the ring bearer at the ceremony.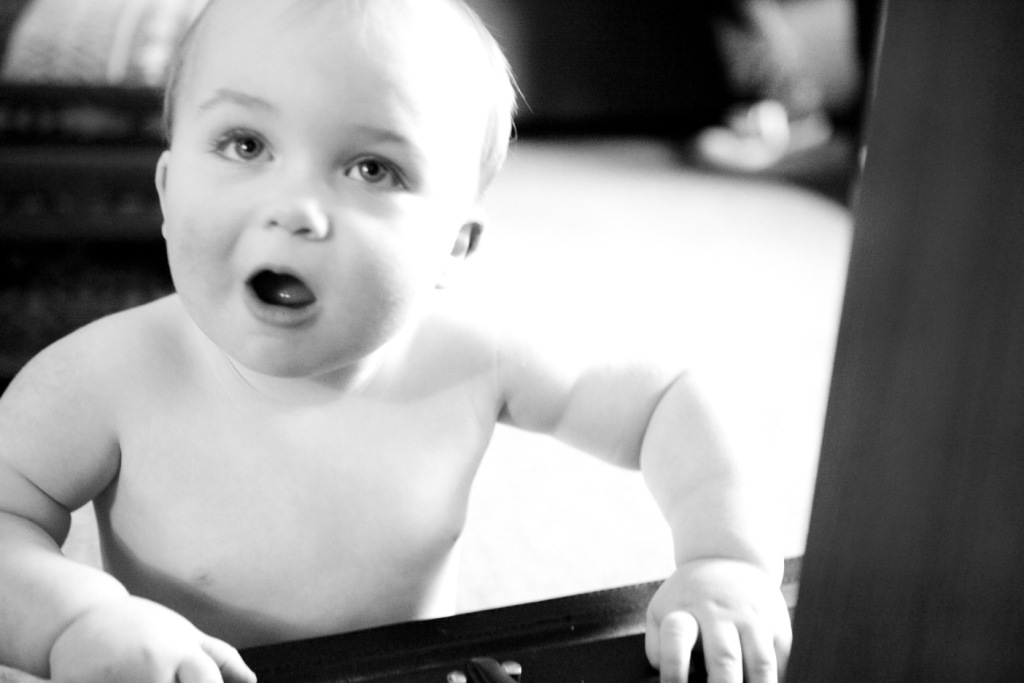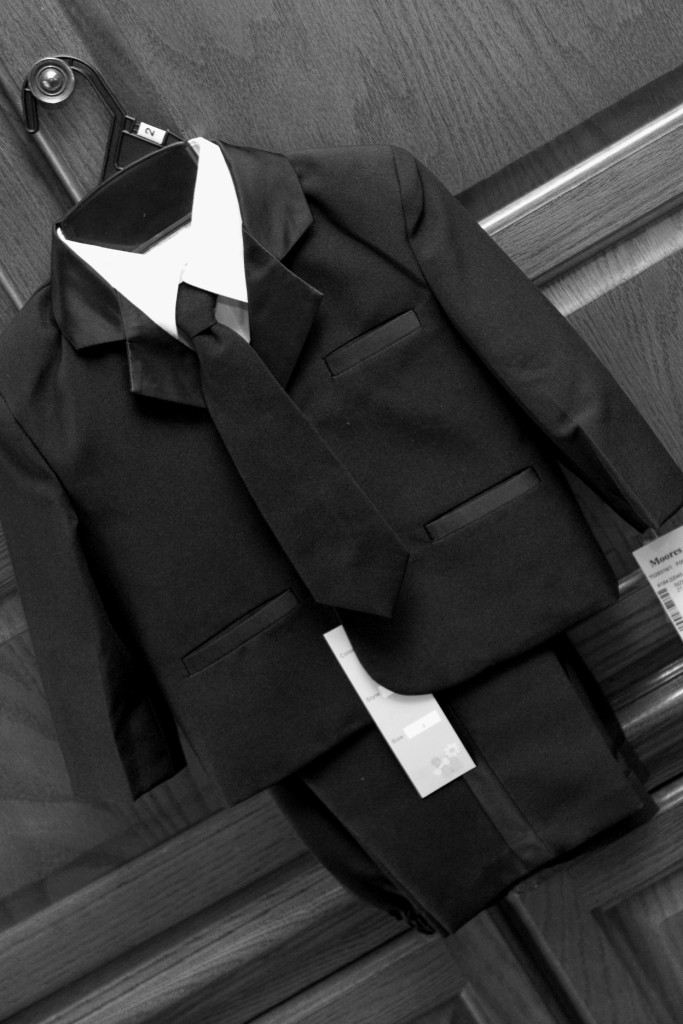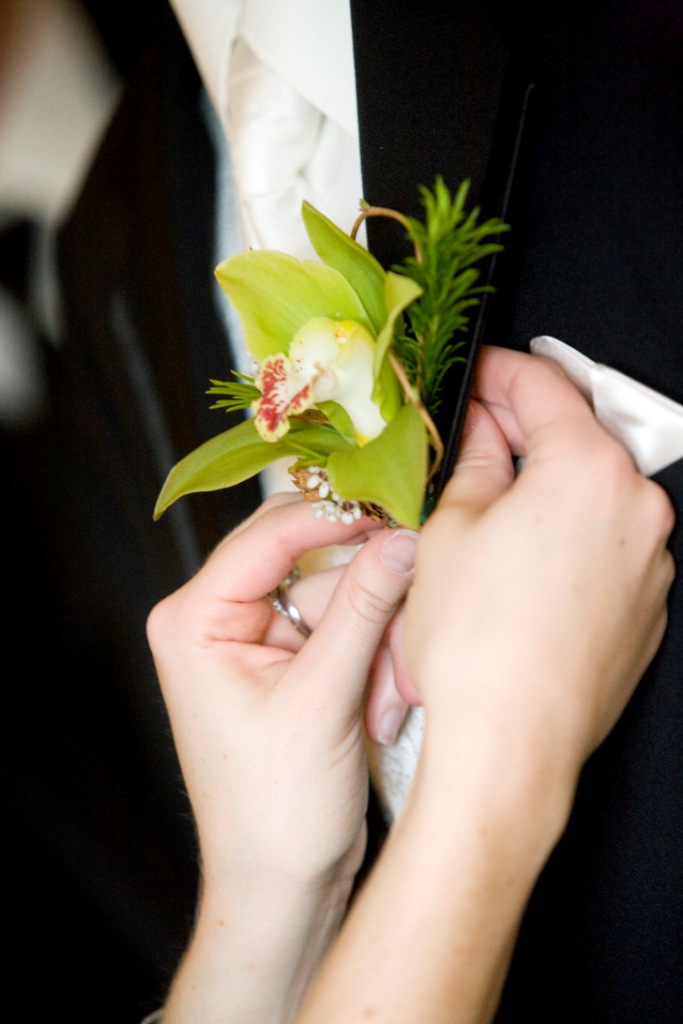 The ceremony was held at one of the lookouts on Jasper's Pyramid Lake Island. A handmade wooden sign pointed guests in the right direction.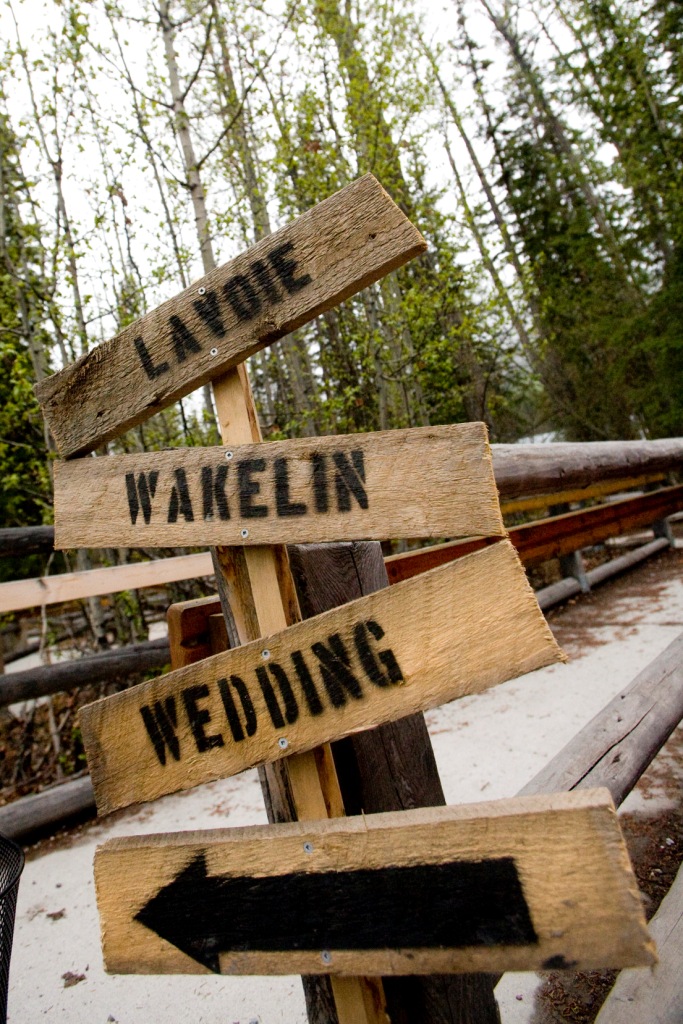 This wagon pulled the flower girl and ring bearer down the aisle, while announcing the bride's entrance! How cute is that!?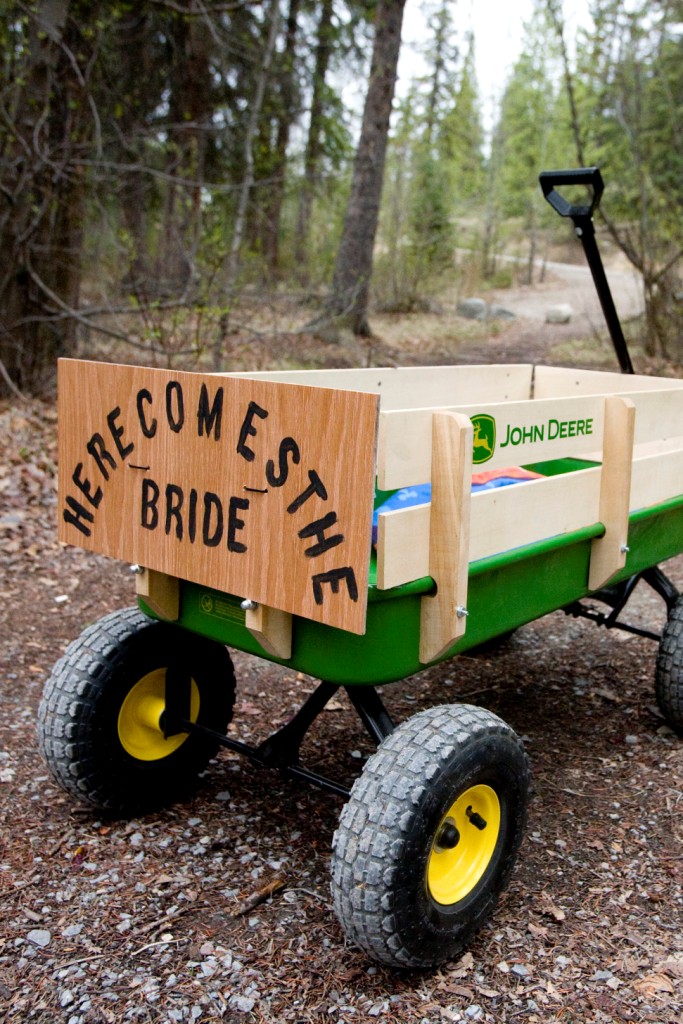 It's tough work bearing rings!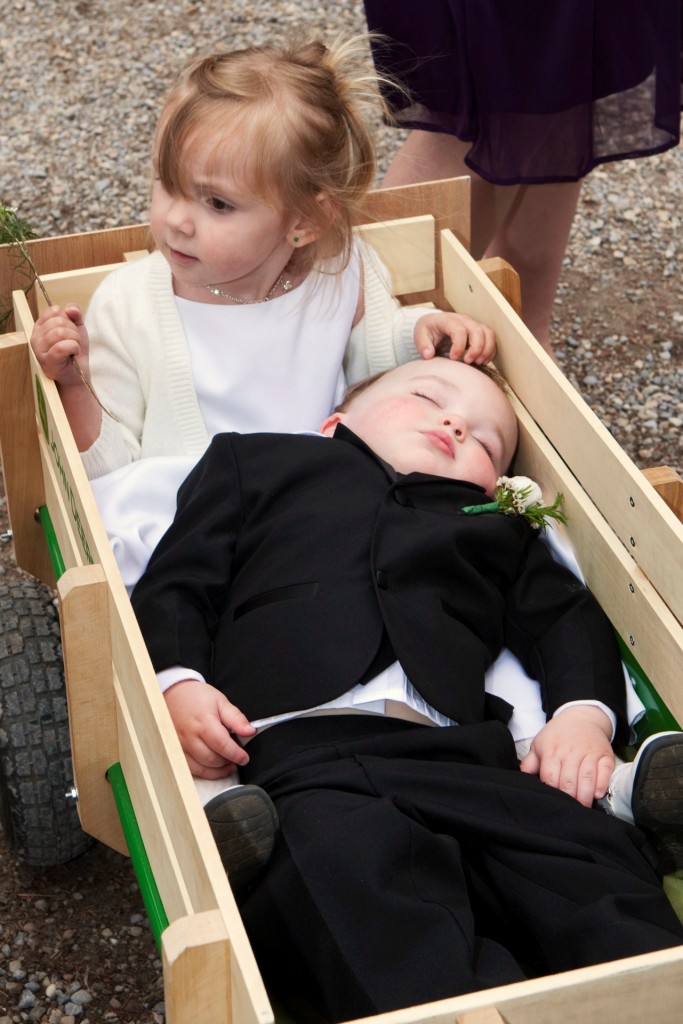 Dorothy's beautiful, rustic bouquet – all flowers were arranged by the wonderful team at Elysion Florals. As a surprise for the couple, I had two wooden tags made with Dorothy + Chad's names engraved on them.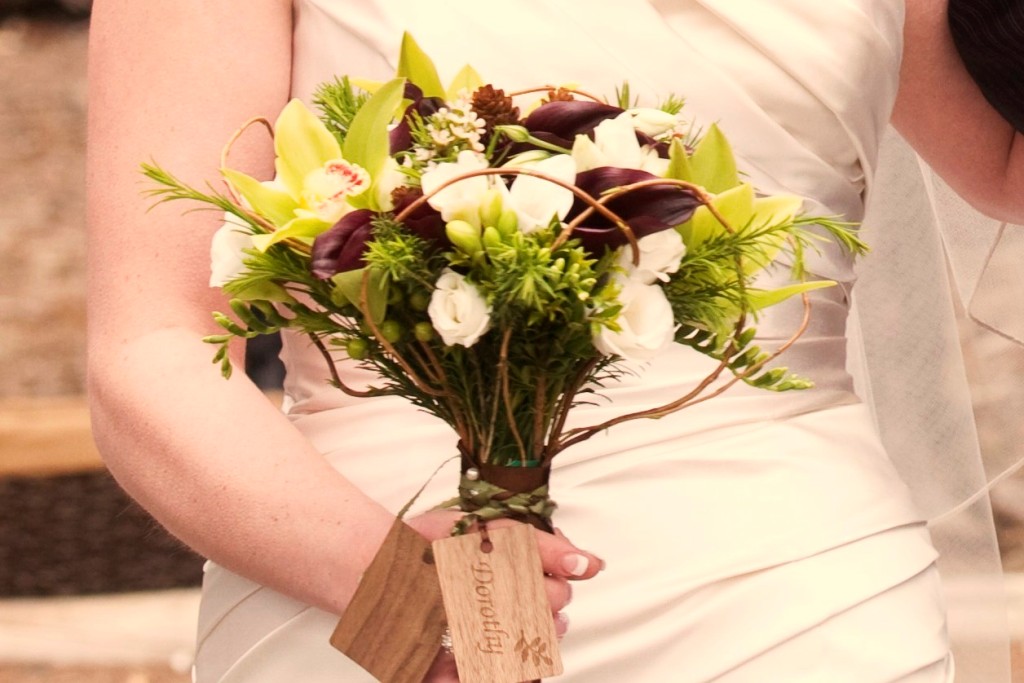 It was a chilly walk across the bridge to meet her groom, but the stunning scenery made up for it!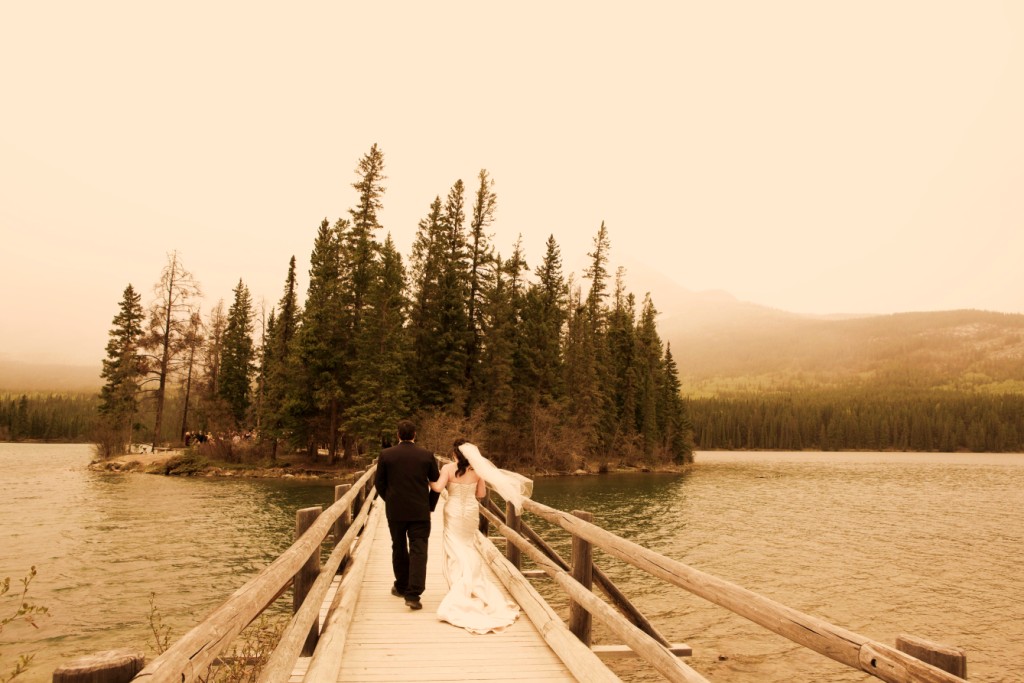 The ceremony was performed by Marriage Commissioner Beryl Cahill.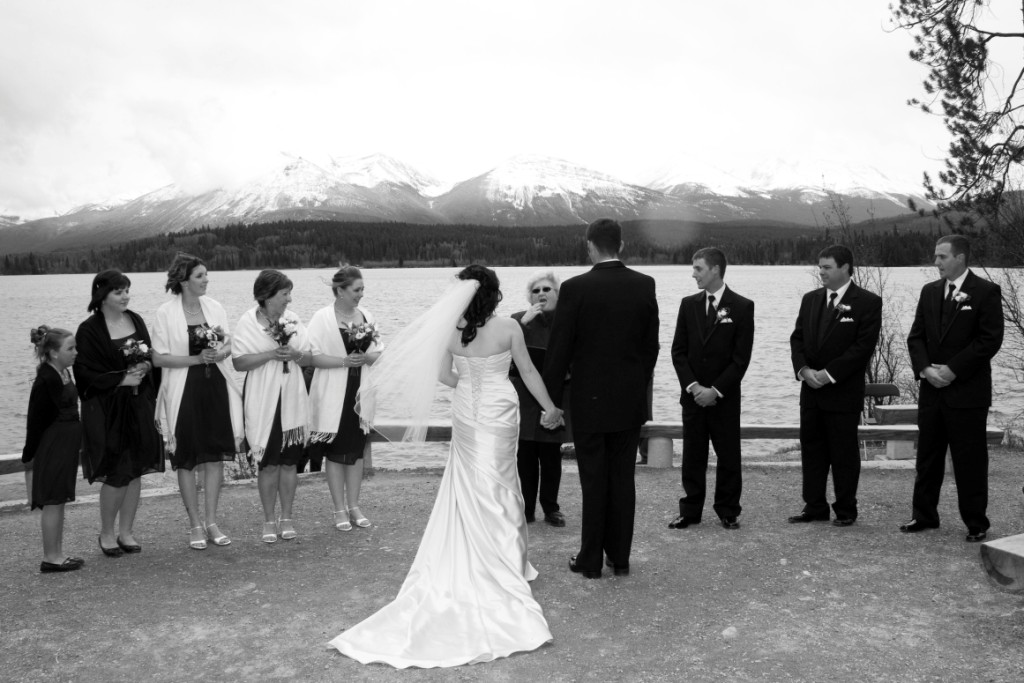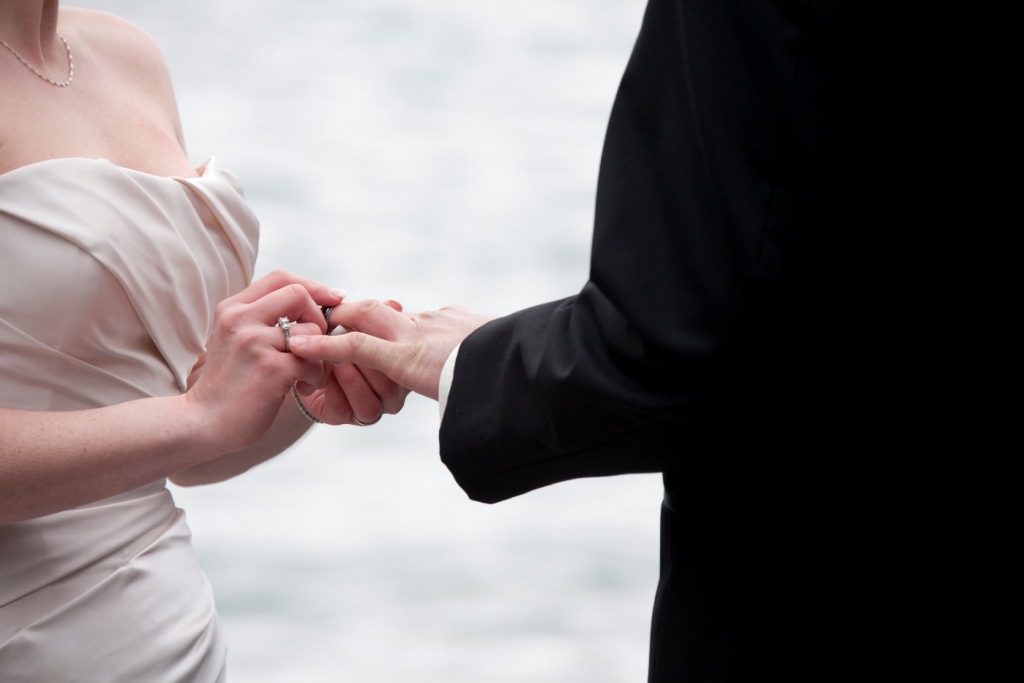 The beautiful bride!
Dorothy + Chad decided they wanted the reception décor to be a surprise. Here is their reaction to seeing the room for the first time!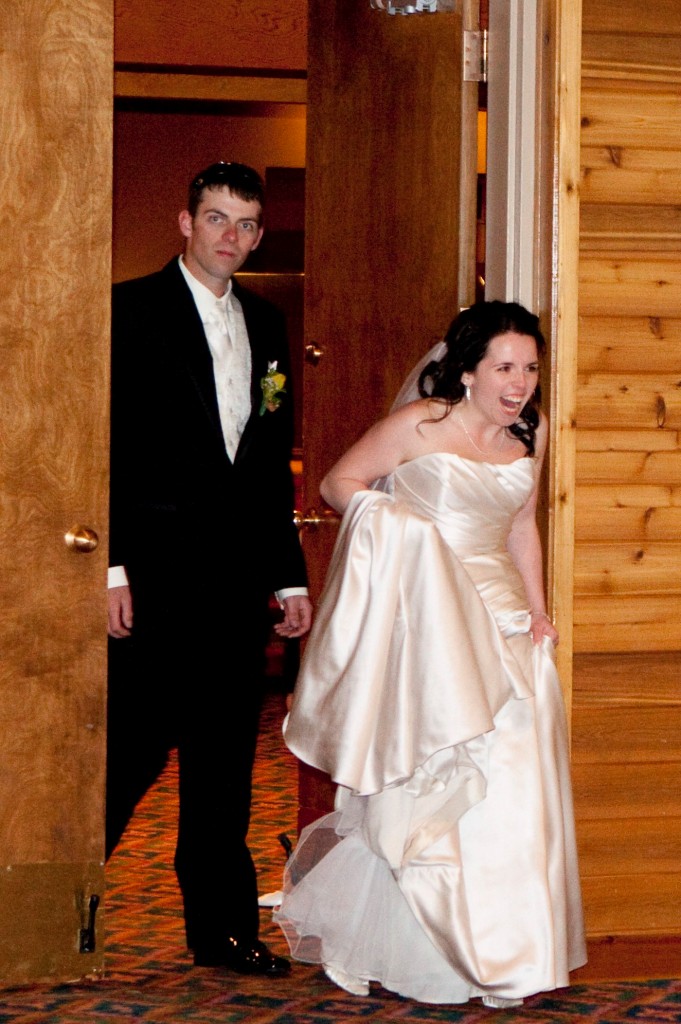 We designed the table décor with an "Alpine Elegance" theme in mind:
A brown lantern sat on top of a wooden slab covered in earthy elements (moss, pine cones, sticks and berries);
Votives and candles in mason jars surrounded the lanterns to make the tables glow;
Ivory pintuck linens, chocolate satin chair wraps and brown napkins polished off the look.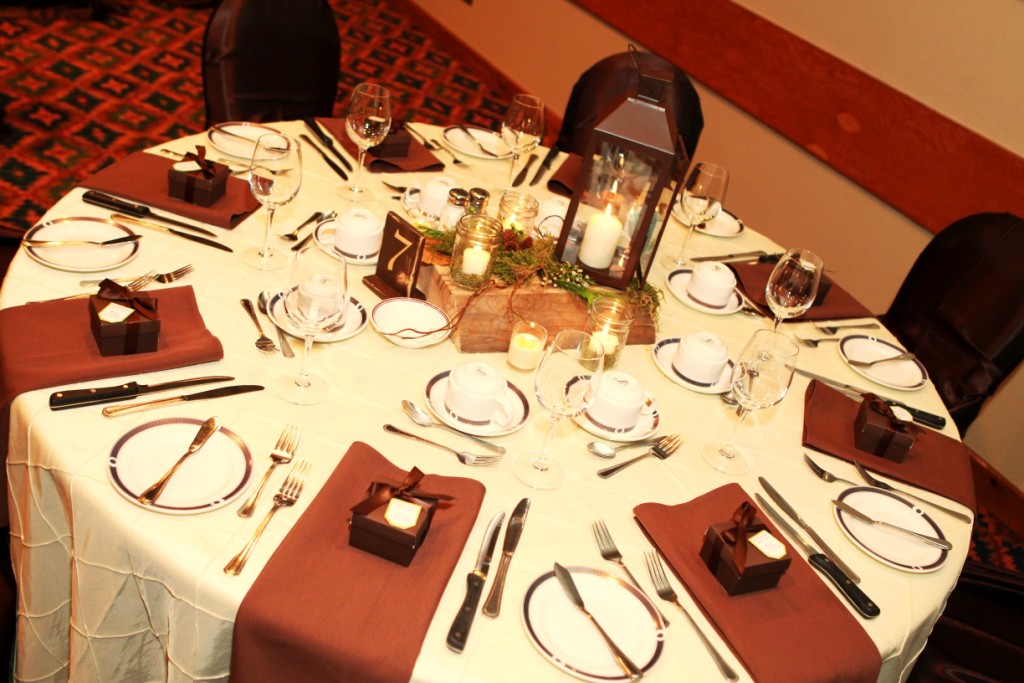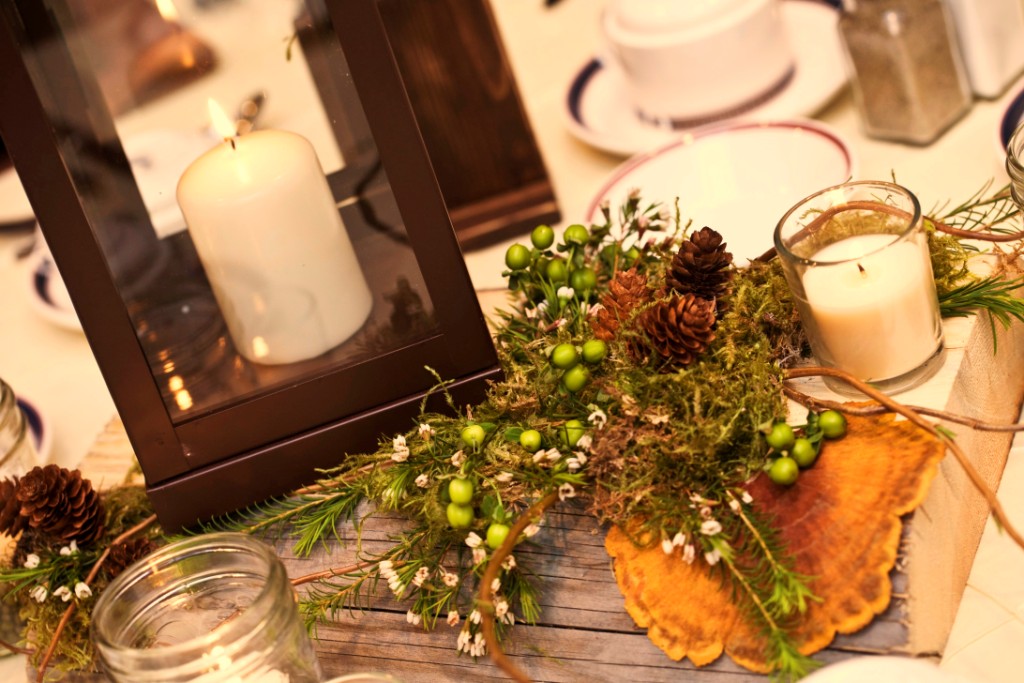 Table seating cards in a bed of moss pointed guests to their seats.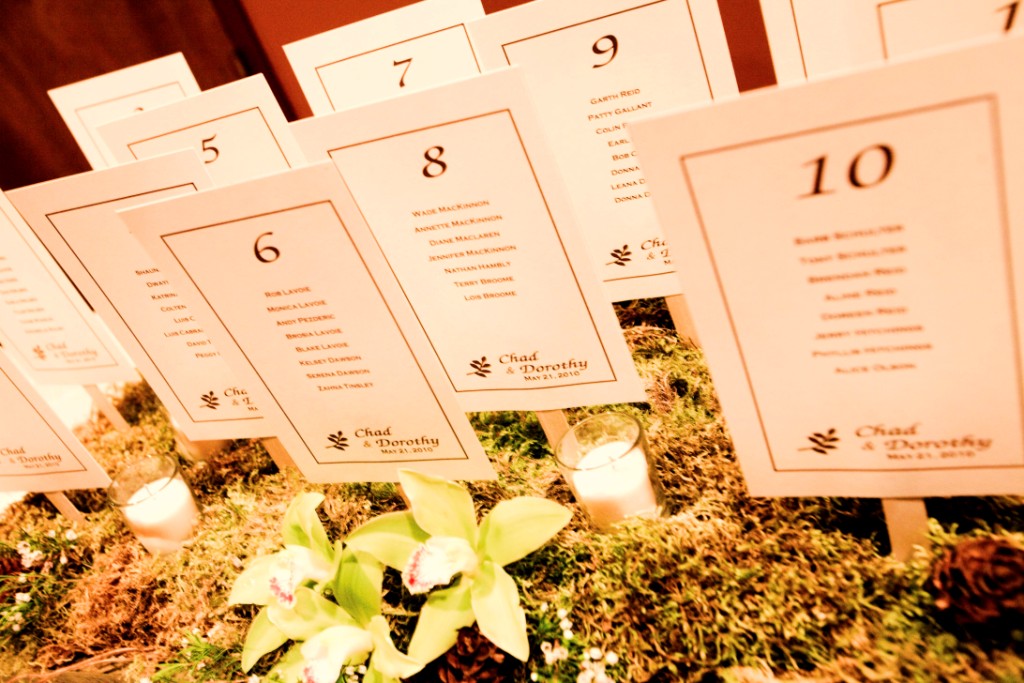 The rustic wooden table numbers were custom made by the highly talented Sharon Auld of Naturally Chic. They went so perfectly with the theme and design of the wedding!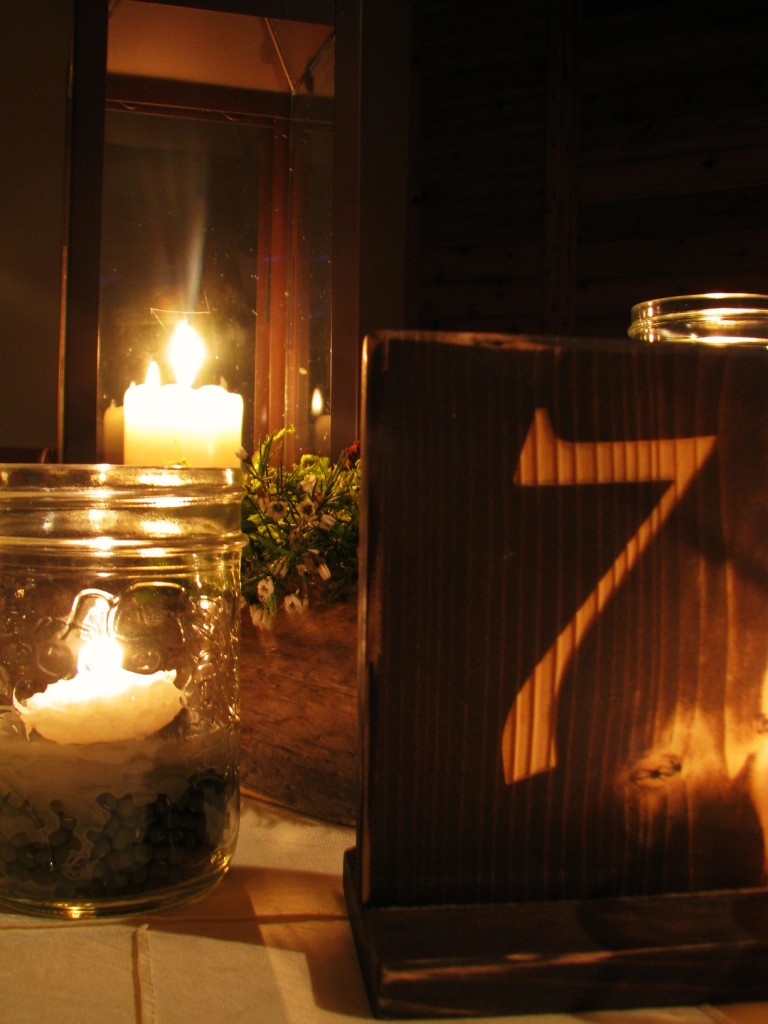 Dorothy + Chad opted for delicious cupcakes from Bear's Paw Bakery Jasper.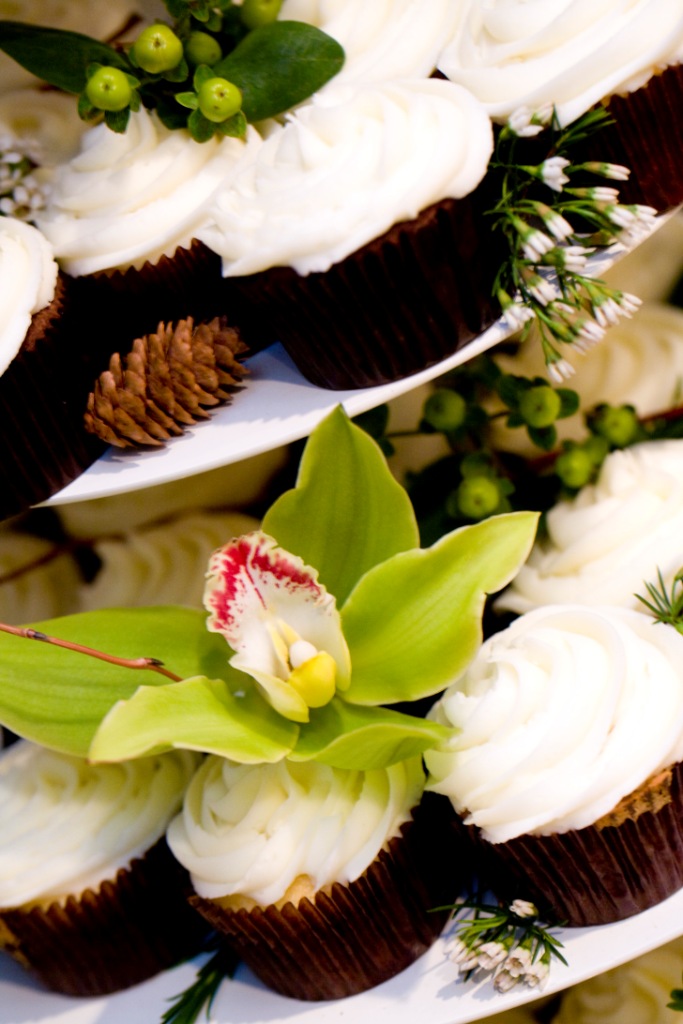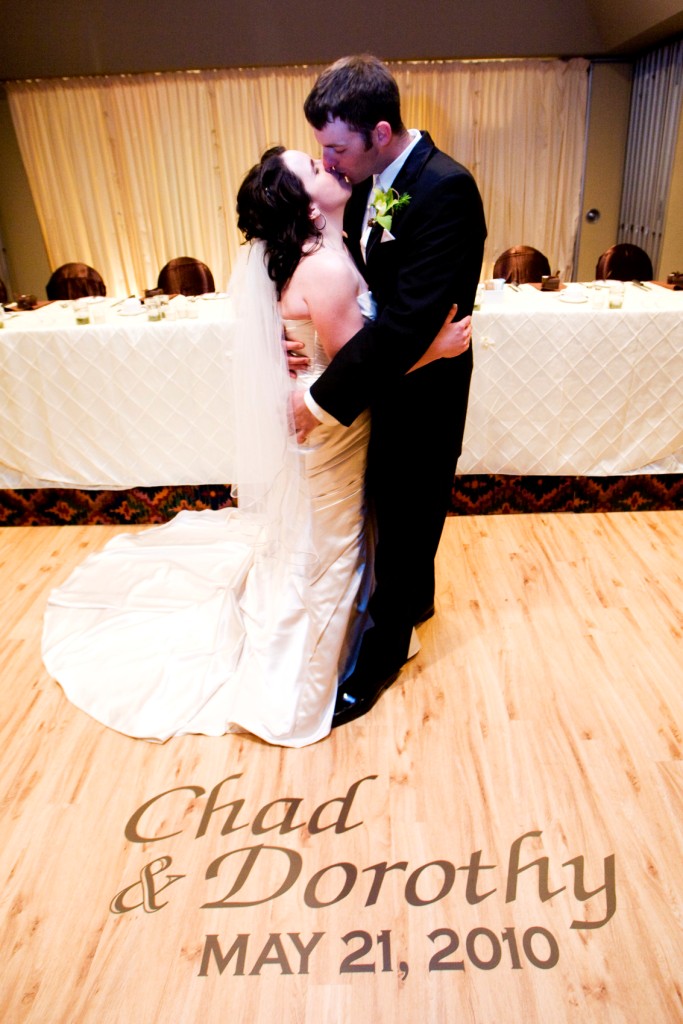 Dorothy, Chad + Chase: Thank you for trusting me with this important day! I wish you all the best as you begin this new chapter in your lives.
xoxo
Jennifer
Photo Credit: A Different Angle Photography.