Posts Tagged: edmonton wedding hair stylist
04/23/12
Happy Monday!
Patricia J. Hair Designer is back with one final post to help you with your bridal hairstyle. Whether you're newly engaged or in the final stages of planning, read on for Patricia's advice on how to treat your tresses right leading up to the big day.

Months Before…Planning and Getting on Track
Ask your hairstylist if they do special occasion hair. It is equally important to find out if they are familiar with (and comfortable creating) the style you want. If they aren't, get them to recommend another stylist.
Feel like

you

in your wedding do'! Don't go overboard! You should be relaxed and your hairstyle should reflect your style as well as your personality (keeping in mind any suggestions your stylist has).
Be organized and

prebook

your wedding day appointment so that you can ensure you get the right starting time and enough time with your stylist. It is always better to have more time than to be rushed – stress free zone is best!

Please

book a trial! It is great to see the style you want on yourself. Take pictures from all angles so you can see how the style is falling, and determine whether you would like to make any changes. The trial is also a great way to test for any product sensitivities or allergies.
It isn't necessary to buy a veil or hair accessories until you know what hairstyle you want.

Do not

decide on a major corrective colour change unless you and your stylist have talked about it and are both aware of what you're getting into.
If length is ideal for your hairstyle, make sure you keep going in for regular trims. Split ends will keep on splitting and result in breakage. Healthy hair is what we want!
If you plan on getting extensions for the wedding make sure your stylist is involved and that the colour matches. It is important to get the extensions properly cut to blend with your own natural style.
Get on a good shampoo and rinse if you aren't already using one, so that your hair is getting the proper moisture/ treatment it needs to be in mint condition. The Kevin.Murphy brand of products are one of my favourite lines and are great for everyday use.

Weeks Before…Time for Touch-Ups
Your last colour and trim can be scheduled 2-3 weeks before the wedding date. This allows the style to soften up a bit and leaves room for unexpected mishaps.
A treatment to boost moisture and shine goes along great with the touchups. I recommend the L'oreal Professional PowerDose or Fiberceutic treatment (in-salon treatments). They leave the hair hydrated and feeling great without weighing it down.
Depending on the style you want, some hairstylists might suggest to wash your hair the day of your wedding but most will ask you to wash your hair 24 hours prior. Freshly cleaned hair can be too soft and fluffy and is harder to work with.
I tell all my clients to do what is called a Maxi.Wash by Kevin.Murphy. It is a clarifying shampoo that removes environmental and product buildup off the hair – and it's colour safe! Maxi.Wash leaves the hair incredibly shiny for your big day.
The Maxi.Wash is like your primer. Follow it up with your everyday shampoo and rinse.
Deep conditioning masks should be avoided the day before the wedding as they are usually quite rich and can weigh down the hair. (Save them for a little TLC after the big day!)
+  +  +  +  +  +  +  +  +  +  +
Some great advice! Brides, if you don't already have a hairstylist for your wedding (or for everyday), be sure to contact Patricia J. Hair Designer!
Jennifer
Edmonton Wedding Planner + Designer
04/6/12
The final post in our bridal hairstyle inspiration series with Patricia J. Hair Designer: chic + relaxed weddings. Be sure to check out Patricia's take on vintage bridal hairstyles and fairy tale bridal hairstyles.
+  +  +  +  +  +  +  +  +  +  +
For the chic and relaxed wedding, simple is best. Top knots and sleek lower buns are classic and comfortable. For a more modern look, textured ponytails or soft undone styles are perfect. Keeping hair accessories to a minimal is key with these looks.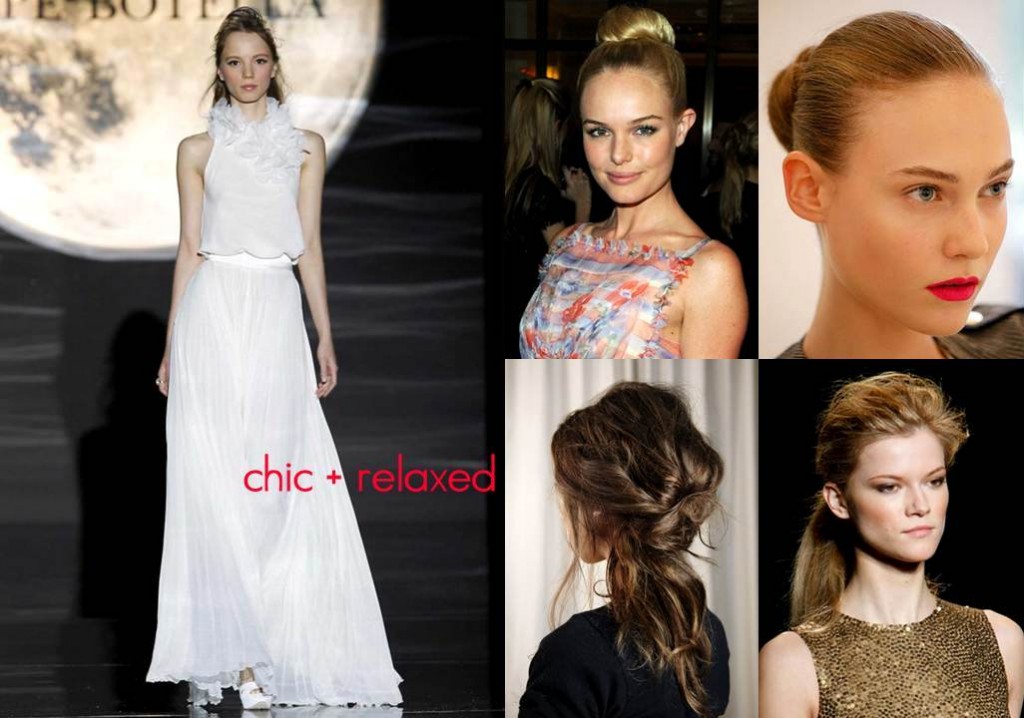 Coming soon – Patricia's hair care tips leading up to the big day!
Jennifer
Edmonton Wedding Planner + Designer
Photo Credits: Pepe Botella Dress – Style Luminising Me; High Bun – Total Beauty; Low Bun – Beauty Works; Messy Ponytail 1- Pinterest; Messy Ponytail 2 – Hair Style.
04/2/12
Brides-to-be, you're in for a treat this week. We have expert hair designer Patricia J. lined up to share bridal hairstyle inspiration for three different looks: vintage, fairy tale and chic + relaxed.
Patricia is an all-star stylist at Celebrity Hair Salon in downtown Edmonton. Whether you need a gorgeous style for your wedding, a fresh new cut and colour, or just a trim – give her a call. I know firsthand how amazing this lady is…she's the only one I trust to look after my locks! Stay tuned to the blog this week for more inspiring wedding hairstyles and accessories.
+  +  +  +  +  +  +  +  +  +  +
With a vintage bridal style, the hair is all about elegance. It's great to be inspired by those Old Hollywood babes such as Grace Kelly or Audrey Hepburn, but even with a vintage style you want your hair to look current – not dated.
Wearing your hair down in sexy, glamourous waves is always good. If you want to have fun with the wave, pin it up into a faux bob, or roll up the front for a faux fringe. The classic bouffant is a great option for a full updo. lace veils or vintage combs/pins are key accessories to bring this look together.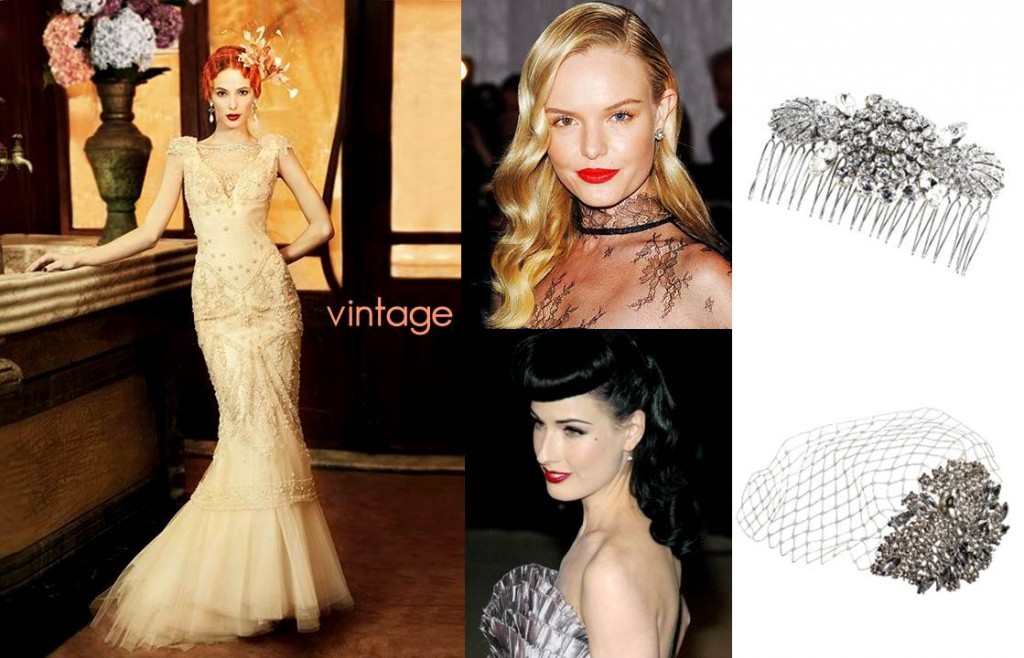 Jennifer
Edmonton Wedding Planner + Designer
Photo Credits: Art Deco Dress – YolanCris; Kate Bosworth – InStyle; Dita Von Teese – Zimbio; Comb and Birdcage – Queens & Bowl.   bestweddingveil