Posts Tagged: Edmonton fashion advice
08/8/11
We've made it to part three of our style-infused blog series courtesy of Edmonton's L2 Style. Over the last couple of weeks, founder Lazina Mckenzie has shared her advice on what to wear to your bridal shower and to your stagette. Today's post will help you look fab for the all-important rehearsal dinner!
+  +  +  +  +  +  +  +  +  +  +
Your wedding day is nearly here and you're nervous yet excited as can be! The last thing you need right now is to spend hours trying to figure out what to wear to your rehearsal. Take a look at the stunning items below. These are definitely worthy of your rehearsal dinner. After all, YOU are the guest of honour (and that partner of yours, I guess…kidding)!
Restaurant / Bar: Tahari Tilda Sheath Dress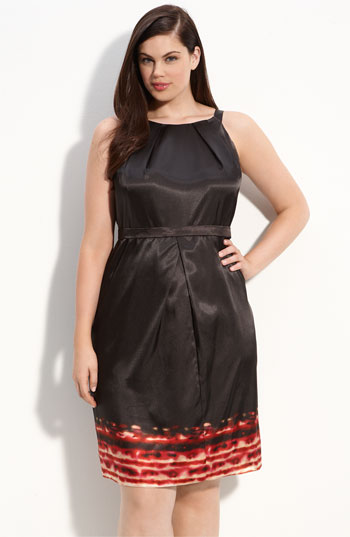 This dress has sex appeal yet it's very classy for an evening event at a restaurant or bar. The colour-blocking effect at the bottom creates a lot of interest and sass while the elegant waistline will draw the eye to the tiniest part of your waist.
Lazina's Style Tips: I'd go with a soft updo and add deep red chandelier earrings. Complement with a red lip and very light makeup elsewhere. Add a chunky bracelet that is textured with black and dark silver. Opt for a classic black peep-toe heel to finish off the outfit with stunning impact.
Backyard BBQ: Tory Burch Hildy Dress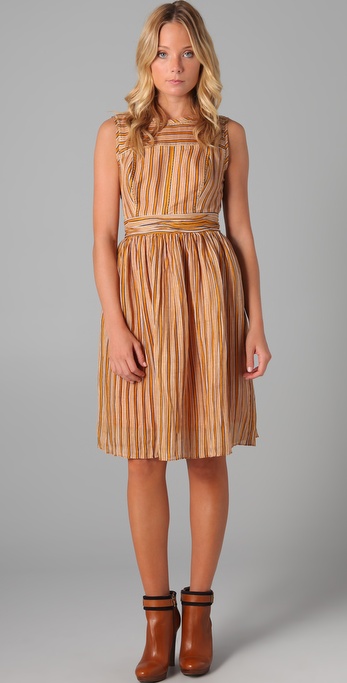 The pleating around the waist of this dress is quite funky while the linen and silk combination give it an effortlessly elegant look. It is versatile enough to let you sit and look fabulous or run around overseeing last minute wedding items. (Editor's note: if you've hired a wedding planner you won't have to worry about the latter!)
Lazina's Style Tips: Keep your makeup light and opt for a tussled 'do (as seen in the picture). It's your party so be bold and add some eye-catching wedge heels, perhaps in bright red or deep blue. For a more neutral look, opt for a tan coloured wedge heel (wedges will be best for a backyard soirée). Accessorize with a chunky wooden ring and matte brass earrings (something a little larger would really complement those messy locks).
Cocktail Party: ASOS Pleated One Shoulder Dress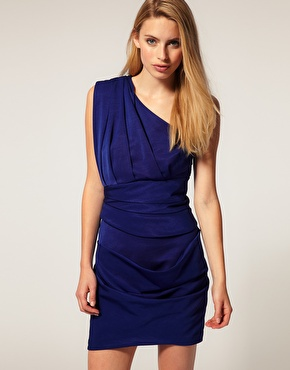 This one shoulder dress is striking in cobalt blue. It is a classy yet sassy little number that will allow you to feel like the life of the party – just as you should!
Lazina's Style Tips: I'm leaning towards gold tones to accessorize this dress. I'd suggest rose gold peep-toe pumps, a delicate gold cuff (maybe even something with a fine leaf print) and citrine jewelled earrings. Add a faux-snakeskin inspired clutch with brown and gold tones to pull it all together.
+  +  +  +  +  +  +  +  +  +  +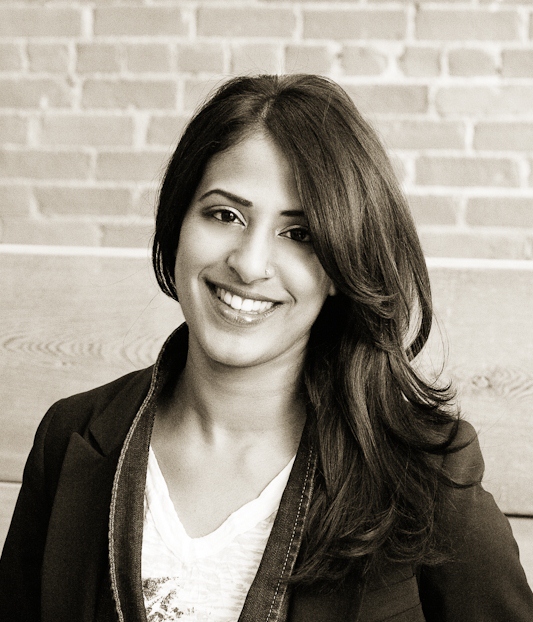 About the Contributor:
Lazina Mckenzie is the founder of L2 Style, a style consulting firm based in Alberta, Canada. Lazina believes that the style (or image) you share with others communicates a lot about who you are. She regularly has her clients articulate the answer to the question: what do you want your style to say about you? More recently, Lazina has opened her service offering to work with brides-to-be and their bridal parties. She is happy to provide her advice and support to brides on their very special day.